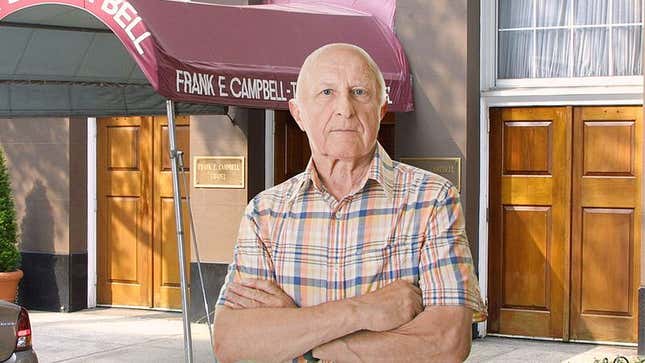 TAMPA, FL—As he nears his 83rd birthday next month, local man Robert Lech told reporters that attending dozens of funerals over the past several years has given him "tons of great ideas" for his own memorial service, and has really opened his eyes to what a funeral can be.
This Week's Most Viral News: September 29, 2023
According to Lech, he first began picking up tips for everything from casket placement to quick-and-easy Bible passages back in 2000, when Karl Manoch, his best friend and business partner of 25 years, passed away following a sudden brain aneurysm.
"You should have seen the flower arrangements," Lech said. "Karl's family asked everyone to send white roses or lilies, which were his favorite, so when you looked at the casket, all you saw was this sea of white. There must have been more than 50 bouquets there, because people loved Karl so very much."
"It really made a huge impact, visually," Lech continued. "And it got me to thinking: That's definitely the sort of thing I want when I die."
Over the years, Lech said, he's grown confident that his own funeral will be "one to remember," due to all the useful ideas he plans to incorporate into his future public viewing. For instance, he recently decided to go with finger foods instead of the traditional buffet for the post-mass luncheon—a "revelation" he discovered at the funeral of cousin Henry Carlton.
"When you're remembering a loved one and telling stories—like the time Henry and I stole Old Man Barger's Pontiac and drove it down to the quarry to go swimming with Annie Davis and Geraldine LaBonte—you really do just want bite-sized foods," Lech said. "I'd hate for people to have to slump over some hot metal tray when my time finally comes."
By his own estimate, Lech has gotten hundreds of ideas from the deaths of friends, family, and colleagues, though he admits his thoughts have not yet coalesced into a unified and cohesive funeral plan he is happy with. Still, there are some details he feels very strongly about, including a single photo blown up to poster size rather than a collage of smaller pictures; a donation box for his favorite charity, the March of Dimes; and arranged seating in hopes that his son, Donald, and daughter, Emma, might finally break their silence after years of bitter fighting.
Likewise, extensive time logged at wakes and funerals has taught him what he does not like. Lech is adamant about not having his youngest grandchild give a reading, which he described as "melodramatic" and "totally expected," nor does he wish to be cremated.
"After [twin brother] Richard was cremated, I decided that wasn't for me," Lech said. "Look, I'm not trying to reinvent the wheel here. I just want a great version of a traditional funeral with a couple of unique elements that take you by surprise. If I can do that I'll be happy."
Lech also said he may forego a three-piece suit for his favorite linen shirt and pants, like his old Army buddy Jack Weaver did at his funeral six months ago.
"Jack taught me a lot of things over the years, like how to be a family man, and how the deceased doesn't have to look all stuffy inside the casket," Lech said. "I want people to remember me not just as their family accountant, but as a friend, or golf buddy, or even as the guy you wave to on the street."
"And I'm not having Father Patrick speak at my funeral," Lech continued. "Everyone always uses him and he just does variations on the same eulogy."
Among the more out-there ideas Lech has encountered came not from a peer but from the funeral of Weaver's 32-year-old daughter Elaine Cassal, a woman he had known since her birth. Rather than a eulogy, the family asked those in attendance to stand up and read different lines from a poem Elaine had written just weeks before her fatal car crash—the most overt break from procedure Lech had ever seen.
"I guess if you really want to see something new and original you have to look to the young," Lech said. "That's the way it always is."
Lech, who will have a heart attack and pass away next Monday, is expected to be cremated at a small service attended only by immediate family members. The public can make donations in Lech's name to the Tampa SPCA.