LOS ANGELES—Widespread violence and riots have broken out across the U.S. since the May 18 airing of the last episode of Will & Grace, the NBC sitcom hailed as the lone common bond between American gays and straights. Relations between the two sides have returned to the hostility that marked the tumultuous period before the show ushered in a tenuous truce eight years ago.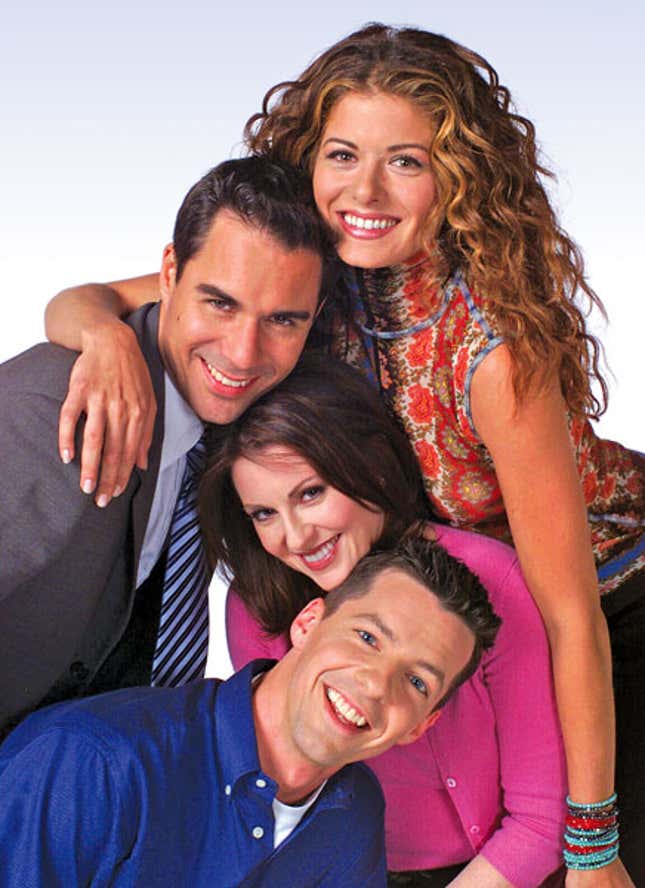 CDC Issues Dire Warning That Nick Cannon Is Feeling Horny
In the nearly two weeks since gay Will and straight Grace ended their televised domestic cohabitation, dozens of vigilante raids on gay bars and nightclubs have been reported, Provincetown, MA announced its secession from the U.S., while skirmishes have broken out at gay–straight border areas along New York's Chelsea neighborhood and the Castro district of San Francisco. And Monday, openly gay congressman Barney Frank was shot and killed on the steps of the Capitol.
"Straight men and women have reverted to their stereotypical view of gays, painting them as two-dimensional caricatures of either uptight, impeccably dressed neat-freaks, or shallow, flamboyant, sex-crazed maniacs," said Neil Giuliano, president of the Gay And Lesbian Alliance Against Defamation.
"Without the glue that held us together every Thursday night at 9, the floodgates have opened, and it's only going to get worse from here," he added.
Until now, the gay community has largely obeyed leaders' appeals for calm, but gay–straight violence seems likely to intensify in the vacuum left by the show's departure. Last Friday, a posse of militant homosexuals laid siege to ESPN's Bristol, CT studios and took five hostages, while actors Harvey Fierstein and Nathan Lane are facing assault charges after throwing several Molotov cocktails into a UCLA fraternity house over the weekend.
Giuliano warned that if the situation does not improve, it could sink beyond the level of the "very dark days" that followed the cancellation of Ellen in July 1998.
"Have we as a society already forgotten the lessons of 'Fagmalion Part One: Gay It Forward'?" Giuliano added, referring to the groundbreaking Will & Grace episode in which Will and Jack teach Karen's cousin how to be gay.
Premiering shortly after the Matthew Shepard slaying in 1998, Will & Grace deftly and memorably addressed the hate-crime incident with  a landmark episode in which Jack wants to become a massage therapist.
"When I watched the episode 'Homo For The Holidays' with several of my new straight friends who I had met and bonded with thanks to the show, I thought it had put an end to homophobia in America forever," Phoenix resident Dan Salemme said. "I guess I never considered that a show of such cultural importance as Will & Grace might at some point go off the air."
"Will & Grace opened up the lines of pithy, innuendo-laden dialogue between gay and straight America," said Tom Harris, a freelance writer for The Advocate. "But since it ended, straight men have been far less apt to engage in tartly witty, rapid-fire exchanges with me, and are far more likely just to call me 'faggot.'"
The sudden absence of the series, which educated millions of gay and straight viewers each week about the other side's lifestyle, fashion sense, and catchphrases, has had a far-reaching social effect beyond the reactionary violence.
Said Austin, TX landlord Walt Howard, "Now that a gay person and a straight person don't live together on TV anymore, there's no reason I should let them do that in my apartment building." Howard plans to evict all gay tenants June 1.
Will & Grace creators David Kohan and Max Mutchnick have come under fire from both sides for effectively removing the only stopgap between peaceful order and uncontrollable chaos.
"We'll all miss the wonderful characters, the numerous celebrity guest stars, and utopian harmony between gays and straights in America," Kohan said. "But the show had run its course. It was time."
"I urge everyone to keep re-learning and applying the lessons of Will & Grace, which, fortunately, will still live on twice daily in syndication," Kohan added.