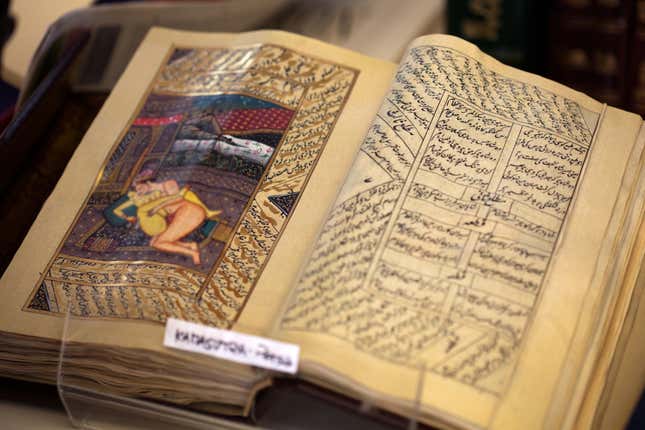 Whether you're an adult who is sexually active—or merely aspires to be—you've probably gotten a little curious about freaky stuff at the bookstore. Scanning the shelves for just the right kind of smut, you instead find something refined and sacred—that sensual classic, the oldest and most enduring erotic text in history, The Kama Sutra.

But as you leaf through the pages, somewhere between "The Congress of a Cow" and "The Broken Flute" positions, you might think—"Something's missing here." Then it hits you. "Where did the corresponding soup recipes go?!" Thanks to the anthropological minds over at Hulu, now we know. The soup recipes got cut in the pitch stage!
And how can we confirm this retelling? Because comedy legend Mel Brooks has teamed up with today's most hilarious talents (including Ike Barinholtz, Nick Kroll, and Wanda Sykes) to give us a sequel worthy of the spoof canon: History of the World, Part II, 42 years after he unleashed History of the World, Part I.
The eight-episode, four-night event features episodes packed with outrageous sketches rewriting the most iconic moments in history to be even more unapologetically absurd. Mel Brooks narrates while the show stars Ike Barinholtz, Nick Kroll, and Wanda Sykes featuring cameos from Seth Rogen, Jack Black, Josh Gad, Pamela Adlon, and Kumail Nanjiani. In the first episode, you'll witness Nanjiani (Welcome to Chippendales, Silicon Valley, The Big Sick) reenact the genesis of The Kama Sutra (neé The Kama Souptra: From Soup to Nuts).
So fire up your crockpots, stock up on chicken broth and aromatics, and get ready to invite all your closest friends for a heart-warming watch party. Just don't forget the clean towels.
Stream the Hulu Original Series History of the World, Part II, a landmark four-night event is now streaming only on Hulu.
This post is a sponsored collaboration between Hulu and G/O Media Studios.