JERUSALEM—The long-simmering sexual tension between Israeli Prime Minister Ariel Sharon and Palestinian leader Yasser Arafat finally reached a breaking point Monday, culminating in a passionate kiss before a shocked delegation of Mideast negotiators.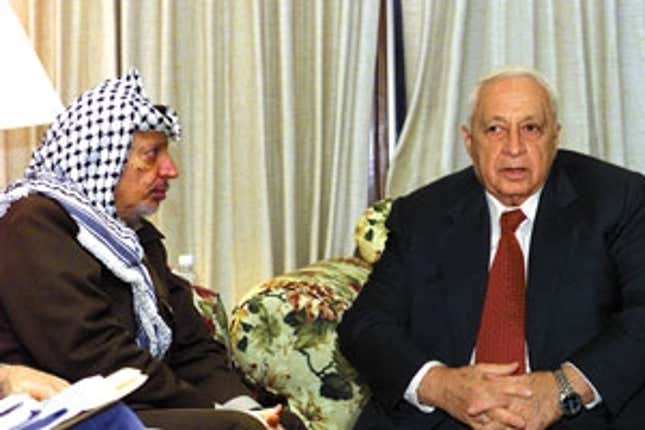 CDC Issues Dire Warning That Nick Cannon Is Feeling Horny
"You always got the feeling that there was something more behind all the anger and tension," said European Union Foreign Policy Chief Javier Solana. "They wouldn't agree on anything, even though their people were dying, locked in this unending conflict. It never made sense—until now."
Continued Solana: "All that repressed passion. And neither of them would admit it to the other… or to themselves."
According to sources, midway through a 10 a.m. meeting to discuss a possible pullout of Israeli troops from several West Bank settlements, Sharon accused Arafat of secretly channeling PLO funds into Hamas and other terrorist organizations. The accusation prompted Arafat to rise from his chair and stand toe-to-toe with his Israeli counterpart. The ensuing heated exchange quickly escalated into a shouting match, which reached an unexpected crescendo when the two leaders embraced in a deep, passionate kiss.
"At first, I thought they were wrestling or something," said Anthony Zinni, U.S. envoy to the Middle East. "But then, I was like, 'Holy shit: They're kissing.'"
Following the six-second embrace, Sharon and Arafat retreated to their respective delegations. They then sheepishly smiled at one another for several minutes before declaring the meeting over.
Few Mideast negotiators expected Sharon, one of the most hard-line right-wingers in Israeli political history, and Arafat, who has made the fight for Palestinian statehood his life's cause, to leave Monday's bargaining table as friends, much less lovers. However, in retrospect, few are surprised.
"To tell you the truth, I can't say it doesn't make sense," said U.N. Secretary General Kofi Annan, one of the witnesses to the historic liplock. "It's like the boy in the schoolyard who torments the girl and pulls her pigtails because he's got a big crush on her. For the longest time, Yasser and Ariel simply didn't know how to express their true feelings for each other. Now they do."
"Everyone knows that the opposite of love is apathy, not hate," Russian Foreign Minister Igor Ivanov said. "Love and hate, they are merely two sides of the same coin."
Ivanov said he first saw signs that the two leaders had "more than control of the Gaza Strip on their minds" at a 1998 Israel-PLO conference in Cairo, at which Arafat reversed decades of PLO policy and polemic by acknowledging Israel's right to exist.
"For the first time in years, they were really getting along," Ivanov said. "Arafat tripped over a rug and landed right in [then Israeli Defense Minister] Sharon's arms. You should have seen the look they exchanged while Sharon held Arafat in his strong grasp. Nothing happened, but you could tell something was there."
Daniel Kurtzer, U.S. ambassador to Israel, recalled suspicious comments made by Sharon at a state dinner in his honor at the White House last September.
"Ariel had had a little too much wine, and he ended up confiding to me about how he has a crush on somebody he shouldn't like at all," Kurtzer said. "He said he couldn't say who it was because it would never work out anyway. At first, I thought maybe it was Crown Prince Abdullah, but now it's pretty obvious who it was."
U.N. Middle East envoy Terje Roed-Larsen praised the kiss as "a positive step forward in Israeli-Palestinian relations." He was critical, however, of the two men's methods leading up to the embrace.
"If trapping Yasser in his Ramallah compound for months was Ariel's way of getting Yasser's attention, he should have tried a less antagonistic approach, like sending a card," Roed-Larsen said. "And Yasser is no better, trying to catch Ariel's eye with all those deadly suicide bombings. God, men can be so stupid and macho."
Sharon and Arafat have since returned to their respective home soil, each having expressed a need for "time to think." In the meantime, the Israeli and Palestinian peoples are anxious to see what will transpire as a result of Monday's historic kiss.
"One mini make-out session and now we're supposed to wait who knows how long to find out if they actually get together? Oh, it makes me so frustrated," said Olfat Hafez, a Palestinian refugee who for the past 18 months has been living in a camp near Hebron. "Still, if these two do end up getting together, the end will have justified the means."