PHOENIX—Upon discovering a series of inexplicable markings on the regulation basketball being used during his team's game against the Nuggets Monday, Suns center Shaquille O'Neal halted play to decipher the meaning hidden in the ball's mysterious symbols and was subsequently called for a 24-second violation.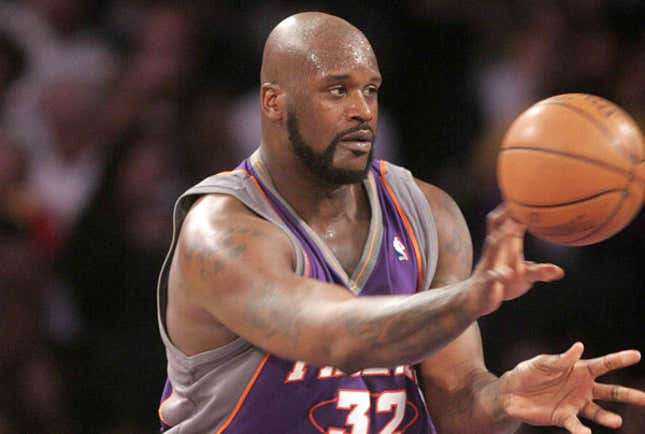 This Week's Most Viral News: September 29, 2023
"I never saw anything written on the ball before," said O'Neal, adding that he had not considered the possibility of using a basketball as a device to access information. "In my first glimpse, I had no idea what to make of the bizarre inscriptions I found on the surface, because the referee took the ball away before I could complete a proper analysis."
"I will do whatever it takes to break the code of these intriguing but unintelligible messages," the 15-time all-star continued. "I can only believe that encrypted in that seeming gibberish is a deeper meaning, perhaps the ancient secrets of the known universe or even the NBA itself."
O'Neal, who finished the game with 19 points and three blocked shots, was reportedly aggressive while calling for the ball, jumping for rebounds, and questioning his teammates about the origin of the curious symbols during fast breaks. According to Suns point guard Steve Nash, O'Neal spent several minutes at the foul line in the fourth quarter speculating aloud as to whether the writings represented a cryptic warning to all NBA big men or might unlock the ability to manipulate space and time.
"He kind of freaked out on me when I suggested that it could be an upside down 'S' connected to a 'P,'" Nash said. "After the ref finally warned him to take his shot or risk a technical, Shaq pulled me aside and said the team's cryptographer would probably think differently."
Though O'Neal said it would be irrational to present theories without a solid foundation of research, the 37-year-old did claim that the mysterious inscriptions were definitely created by a more advanced basketball civilization with vastly superior technology. While acknowledging that humans have made impressive scientific progress, O'Neal opined that our culture has not yet developed the sophisticated tools required to embed complex informational structures on the spherical surface of a basketball.
Following the Suns' 118-115 victory over the Nuggets, O'Neal was seen hurrying off the court to the locker room, where he conducted a number of tests on a ball. O'Neal's first experiment, which consisted of squeezing a lemon wedge over the ball to draw out any invisible markings hidden on its surface, was inconclusive, and he expressed annoyance when forced to suspend his research for head coach Alvin Gentry's postgame talk.
"Observing the inscription's sensitivity to high levels of heat seems like a much better use of my time," O'Neal said. "I certainly wouldn't place his feeble recognition of our success in the same realm as my reality-shattering discovery."
O'Neal, who drove to a nearby Sports Authority retail store with the intention of purchasing hundreds of similar basketballs, was distraught when a clerk asked him if he wanted the synthetic version.
"If all these balls are artificial, mere replicas, then that leads to the question of the existence of the original, what I have termed the One True Ball—which may not even exist," said O'Neal, scratching at his face with his fingers. "And if the One True Ball is a mere mental construct, an ideal of perfection, then by extrapolation it becomes impossible to verify that the NBA or life as we know it is even real. Perhaps we are all stuck in separate adjacent dimensions and never actually interact with one another."
"Which ultimately means that we are caught in some kind of cosmic lie," O'Neal added. "All my efforts to create a Shaqtopia were for naught."