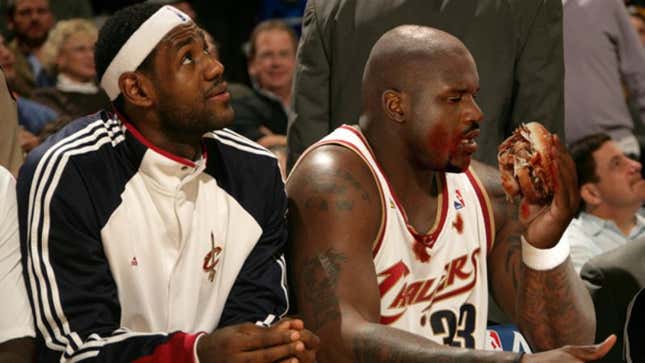 CLEVELAND—Cavaliers center Shaquille O'Neal suffered a frustrating setback during his team's victory over the Toronto Raptors Tuesday night, when he was sidelined for the entire second half of the game with a pulled pork sandwich.
Supreme Court: 'We Wear Gold Crowns Now'
O'Neal, who scored 12 points and grabbed three rebounds during the first half of the game, returned to the bench at the beginning of the third quarter, clutching at the pulled pork sandwich and informing trainers that it was incredibly tender. A member of the Cavaliers' medical staff said that when he attempted to examine the pulled pork sandwich, O'Neal flinched away and grunted sharply.
"We are moving quite cautiously and continuing to monitor the situation, because this appears to be a very serious pulled pork sandwich," Cavaliers athletic trainer Max Benton said. "There's a chance that Shaq could have gone back into the game, but with a pulled pork sandwich of that magnitude you can't be too careful. I've seen lesser ones knock a guy out for the rest of the season."
"My best guess is that he'll be slowed down for a bit and require anywhere from a few hours to several days to recover," Benton added. "We made sure it had heat on it—you don't want to let it cool down, and you certainly don't ice it—and we gave him plenty of fluids. I've seen a few pulled pork sandwiches, and this one looked pretty good, pretty loose. With luck it'll be out of his system by tomorrow morning."
Cavaliers head coach Mike Brown said he was pleased by O'Neal's effort in the first half and was surprised when the center had to leave the game. Brown told reporters that prior to the pulled pork sandwich the 15-time All-Star appeared to be moving smoothly and showed none of the warning signs of the onset of a pulled pork sandwich.
"This is such a shame. A pulled pork sandwich this severe was the last thing Shaq needed at this point in the season," said Brown, who is still optimistic that the pulled pork sandwich will not derail O'Neal's attempt at another NBA title. "Hopefully he can gut it out and play through the pain."
Point guard Mo Williams said O'Neal spent the majority of the third quarter hunched over on the bench with his hands up to his face, nursing his pulled pork sandwich. Williams said O'Neal stood up and tested the pulled pork sandwich several times before insisting that he didn't feel right.
O'Neal reportedly spent the rest of the game lying on his back, breathing heavily.
"When I saw him grimace immediately after the pulled pork sandwich, I could tell that he was done for the night," forward LeBron James said. "You could just see it all over his face."
Although O'Neal disappeared into the locker room after the Cavaliers defeated the Raptors 108-100, reporters conducting postgame interviews confirmed they heard moaning sounds emanating from a restricted area of the facility where the 37-year-old was seeking relief.
"Shaquille will be in our thoughts and prayers," Cavaliers general manager Danny Ferry told reporters. "As a former player, I know that when you get older it becomes harder and harder to recover from a pulled pork sandwich that severe. However, I can confirm that rumors Shaq might have a second pulled pork sandwich are simply not true."
O'Neal, who entered the NBA in 1992, has been plagued throughout his career by pulled pork sandwiches, which caused him to miss 28 games during the 1995-1996 season alone. During his third season with the Miami Heat, his effectiveness is thought to have been hampered by his attempts to play despite numerous pulled pork sandwiches. Later in O'Neal's career, doctors discovered that the 7-foot-1-inch center's ability to shoot free throws was compromised by complications from chronic pulled pork sandwiches, a condition commonly known as "greasy digits."
A team spokesperson announced yesterday that medical staff had performed an MRI on O'Neal's pulled pork sandwich, but the results were inconclusive.