BOSTON—In an impressive display of physical prowess, gutsy determination, and insatiable hunger, Celtics center Shaquille O'Neal proved all his doubters wrong Wednesday when the 38-year-old showed that he was still one of the most dominant big men around the basket of fries.
O'Neal, who repeatedly demonstrated that his skills, quickness, and explosive power had not declined with age, was unstoppable whenever he came near the basket of fries. The 15-time NBA All-Star made his bruising presence felt for a full 48 minutes, as he used his massive 325-pound frame to drive hard to the basket and dunk the fries spectacularly into the ketchup.
Celtics coach Doc Rivers said the 7-foot-1 center showed remarkable passion, screaming at opponents and throwing elbows in order to clear out the area in front of the basket of fries.
"Tonight he was a real difference-maker, using his bulk and superior strength to box people out and overpower guys," Rivers told reporters after a postgame meal, adding that the area around the basket of fries was still O'Neal's comfort zone. "Some people say that he's slowed down over the years, but he showed some real lateral quickness when he was defending his basket. He must have snagged about a dozen fries that I thought were out of his reach."
"He sent a clear message to the league tonight," Rivers added. "If you get close to that basket of fries, Shaq can still make you pay."
G/O Media may get a commission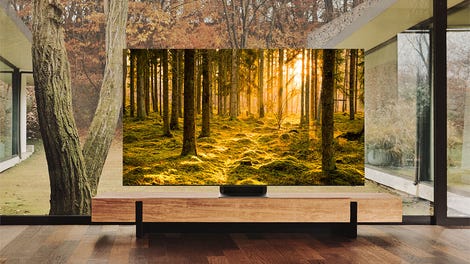 Up to 40% off
Samsung Smart TVs
Throughout the night, O'Neal displayed a variety of effective moves reminiscent of his early days with the Orlando Magic. Using head fakes and spins to get to the basket, the seven-footer chased down every loose fry, and at one point broke the rim of the basket.
O'Neal relied on his huge hands to grab 18 rebounds after he missed several attempts to stuff fries into the hole, and displayed flashes of his old quickness by repeatedly scoring fries in bunches.
The big man even defied the perception that he's become a less mobile, primarily inside force by executing a backdoor play in which he glided through traffic, looped around the back, and went hard through an open drive-thru lane, collecting an extra half dozen baskets of fries in the process.
"He turned back the clock, that's for sure," TNT basketball analyst David Aldridge said on Inside The NBA. "I haven't seen Shaq put on a display like that since he jammed down 12 consecutive Supersize fries in the McDonald's near Madison Square Garden in 1998. He always did shine on the biggest of stages."
Shooting guard Ray Allen was reportedly impressed by the way O'Neal aggressively attacked the basket of fries from both sides of the rim. According to Allen, O'Neal maintained his focus the entire night, opting never to take a breather and fighting through periods of obvious pain.
"Shaq was really in the zone tonight," Allen told reporters, adding that he was impressed with O'Neal's amazing food court vision. "He's so strong it was like nothing was going to stop him. He fought hard for every last fry."
"And yet he really has a soft touch around the basket," Allen continued. "He's such a great finisher."
Portland Trail Blazers power forward LaMarcus Aldridge acknowledged that O'Neal took advantage of size-mismatches, fiercely guarding and controlling the area around the basket of fries by shielding it with his body and delivering a number of powerful blocks.
"When Shaq gets that hungry look in his eye, you know there's no way he's letting anyone near the basket," Aldridge said. "Anytime I got even close to a fry he laid me out cold."
Though O'Neal had one of his best showings of the season, Celtics sources said that forward Kevin Garnett was upset with O'Neal, claiming that "Big Shamrock" missed a number of opportunities to feed him a fry down low. Moreover, while Garnett said O'Neal passed the salt efficiently, he noted that the 2000 NBA MVP did turn over his soft drink several times.
Garnett acknowledged that he respects O'Neal's persistence and effort, however, and said tonight's display was clearly that of a man on a mission.
"Shaq's already got four onion rings on his fingers, but he still wants to get one more for the thumb," Garnett said. "And you know what? Tonight he showed he's going to do whatever it takes to get a whole handful of onion rings. Whatever it takes."
O'Neal later stunned his teammates with a last second bucket of chicken.