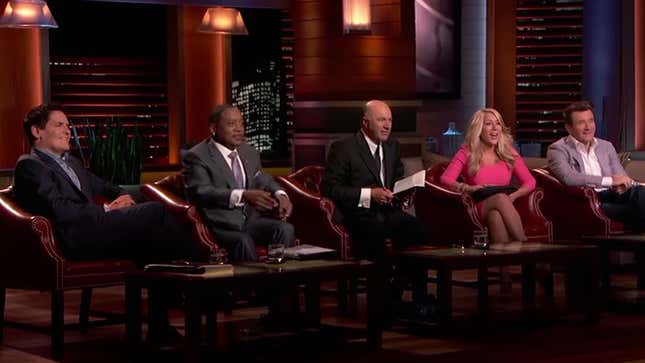 The reality show Shark Tank, which follows would-be entrepreneurs pitching ideas to a team of investor judges, debuted on August 9, 2009, and in its 10 years on the air has generated its share of memorable stories and controversies. The Onion looks back at Shark Tank on its 10-year anniversary.
CDC Issues Dire Warning That Nick Cannon Is Feeling Horny
---
2000:
Mark Cuban swindled out of nearly $300 million after someone pitches idea of Dallas Mavericks to him.
---
2004:
Japanese version runs for five years to test if show safe for American viewers to consume.
---
2008:
Concept for show develops after Kevin O'Leary and Barbara Corcoran have a good laugh about how funny it would be to help poor people's pathetic little dreams come true.
---
2009:
Some smug fuck stole your idea!
---
2011:
Mark Cuban joins main cast following several stints on show as low-level production assistant.
---
2012:
Hush falls over set after Daymond remarks that everything on the show just pro-consumption showcase for pieces of junk that don't make people's lives better, and perhaps capitalism has run its course.
---
2013:
Kevin hates it, but Lori thinks it has potential.
---
2015:
ABC launches companion series Beyond The Tank that checks in with contestants who previously appeared on Shark Tank, something that is both faster and more enjoyable to just Google.
---
2017:
Woman tearfully tells story of how husband's death from cancer inspired her to create two-in-one cooler-stove.
---
2019:
After all that, show's greatest success story still just a fucking sponge.