ST. PETERSBURG, FL—Phurba Dorje, the lunar Sherpa guide who blazed the trail for the Apollo 11 astronauts and made it possible for Neil Armstrong to become the first white man to set foot on the moon, died peacefully in his sleep Monday in his Florida apartment. He was 71.
Dorje, whose career with the U.S. space program spanned more than a decade, carried provisions, equipment, and solid rocket fuel on 13 missions in the 1960s and 1970s, but is best known for guiding Armstrong and his crew to Tranquility Base in 1969.
This Week's Most Viral News: September 29, 2023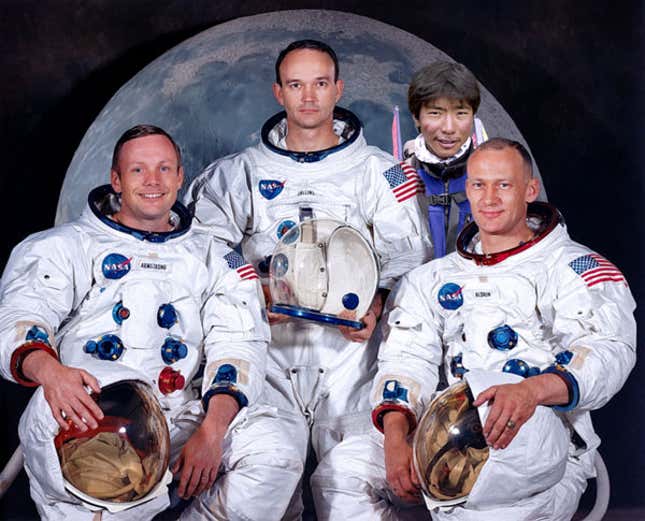 "Without Phurba's invaluable guidance and sturdy legs, I doubt we ever would have made it beyond Earth's atmosphere," Apollo 11 pilot Michael Collins said of the man who strapped the crew's Passive Seismic Experiment Package to his back for all but the last 20 feet of the 238,855-mile journey. "He was a true hero and a wonderful cook."
Following the well-worn path of his ancestors, Dorje and his two yaks hauled dehydrated food, water, space helmets, binders full of flight schematics, and a large silver plaque commemorating the moon landing as he shepherded the astronauts through their historic journey to the moon. Although his efforts are well documented in internal NASA records, Dorje is largely absent from all photographs of the momentous event, as he was also the expedition's unofficial photographer.
In addition to his roles as porter, guide, dishwasher, valet, thruster mechanic, and general manservant, mission archives show that Dorje waited at the bottom of the ladder to help Armstrong—wearing his bulky, awkward space suit—descend to take his historic first steps. For his part, Armstrong has generally avoided the issue of who was the first man on the moon.
"Phurba's work simplified operations immensely, and he was always cheerful," Armstrong said. "When we launched, I was naturally disorientated by the sudden switch from explosive acceleration to microgravity. But I remember looking over at Dorje, and he was smiling happily as if everything were normal."
Added Armstrong, "He was in his element."
NASA recruited Dorje from a lunar-savvy band of coastal Sherpas outside Cape Canaveral. The small tribe is locally known for its proficiency in high-altitude work and its ability to survive in the harsh regions around the moon.
Recognized for his innate skill at navigating the upper stratosphere, Dorje was chosen by John Glenn to be lead guide on the 1962 Mercury-Atlas 6 mission. Dorje worked with NASA cartographers for months to map out his people's ancient navigational route to the moon, which, until that time, was known only through oral tradition.
The mission was a success, and Glenn became the third American to enter space. But there was one tense moment during the launch when Mercury capsule's heat shield vibrated loose, and the expedition was forced to make camp in the lower mesosphere for the night while Dorje repaired the faulty apparatus. To this day, Glenn credits his safe return to the Sherpa finding an alternate orbital re-entry path with less atmospheric friction.
Dorje's greatest achievement came years later, when he and his two trusted yaks accompanied Armstrong and lunar module pilot Buzz Aldrin to the surface of the moon itself.
"There was no question in our minds who we would take—no one knew the terrain better than Phurba," a visibly moved Aldrin told reporters Tuesday. "And we couldn't have done it without him. He brought the extra rope, the ladder we needed to get down from the capsule, the special ice cream, the Tang, even the hammer we used to plant the flag. We had trained for reaching the surface of the moon for years, but to Dorje it was second nature."
"I know it was a different time, but I still regret that Dorje wasn't allowed to wear a suit like the astronauts." Aldrin added. "He never complained, and he didn't really need one anyway. Phurba was as much a member of that team as anyone. Probably more than [Michael] Collins was."
Some have suggested Dorje may have even prompted the historic and somewhat ineloquent "one small step for man" proclamation. As the story goes, a nervous Armstrong had frozen up and forgotten what he was supposed to say, until Dorje, with typical grace, recited the words to the NASA commander.
"I hope people realize that it was my own nerves, and not Phurba's stilted English, that made it come out wrong," Armstrong said. "Even after all we put him through, he kept it together, pushing the lunar module upright on its struts after we screwed up and landed it on its side. That's the kind of man he was."
Dorje retired from active service after the ill-fated Apollo 13 mission, during which he suffered exhaustion and hypothermia as a result of carrying extra oxygen back and forth to the crippled capsule. Astronauts John Swigert, Fred Haise, and James Lovell credit their survival to Dorje's six trips to Cape Kennedy for air bottles without any breaks for food or sleep. In the film Apollo 13, however, Dorje's story arc was reduced to a pair of two-minute cameos played by George Takei and eventually cut at the request of Tom Hanks.
Dorje's true memorial will no doubt be his contributions to exploring the outer space on whose borders he was born.
"No matter who knows or doesn't know Phurba Dorje, his legacy is clear," acting NASA administrator Christopher Scolese said in a memorial service Tuesday. "His goatskin yurt rests on the moon as an eternal monument, just around a rocky corner from the landing site, where he worked in service to all mankind."