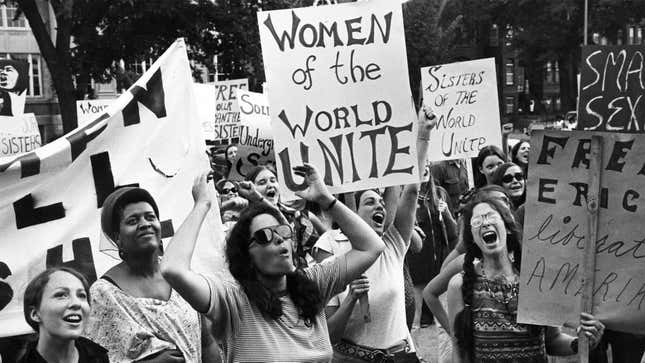 Shirley Chisholm, the first black US Congresswoman, once said "If they don't give you a seat at the table, bring a folding chair." Standing up for both Black people and women in America's halls of power in 1968, the establishment threw everything at her they possibly could to throw her off course—implicit misogyny, racist microaggressions, nosebleed seats for any and all national conventions.

But that didn't stop her from showing up and unfolding that chair over and over again, often bringing the best ideas to the conversation. Granted, the politicians she called her contemporaries stole those proposals at best and ignored them at worst, instead blathering on about how access to birth control will lead to total social collapse.
Put yourself in her shoes: a '70s sitcom laugh track and some multicam spit takes would definitely have lightened the mood.
With Wanda Sykes (The Chris Rock Show, Curb Your Enthusiasm) in the role of Shirley, the Congresswoman's story gets the '70s sitcom treatment in Mel Brooks' History of the World, Part II. Forty-two years after Brooks unleashed History of the World, Part I upon us, he's teaming up with today's most hilarious minds including Ike Barinholtz, Nick Kroll, and Wanda Sykes.
The eight-part miniseries features sketches skewering the supposedly true stories we were all taught in grade school, jam-packed with insanity, music, dancing, and cameos aplenty. Mel Brooks narrates the show, with starring roles for Barinholtz, Kroll, and Sykes and appearances by Seth Rogen, Sarah Silverman, Josh Gad, Pamela Adlon, and Kumail Nanjiani.
Throughout the eight-episode series, we check in with Shirley repeatedly as she attempts to get something (ANYTHING!) done in spite of the slow-moving (and not so lowkey racist and sexist) bureaucracy that is the American government.
Against all odds, Shirley makes it all the way to the Democratic National Convention to promote her bid for president, with her bestie Florynce Kennedy and her husband Conrad by her side (even if he's more interested in churros than her speech). Her reception is… less than presidential, but she triumphantly storms the stage—demonstrating that all you need to get America on your side is a sparkly costume, a groovy song, and some back-up dancers.
Watch Shirley get down in her signature unbought and unbossed way.
Watch the Hulu Original Series History of the World, Part II, now streaming only on Hulu.
This post is a sponsored collaboration between Hulu and G/O Media Studios.