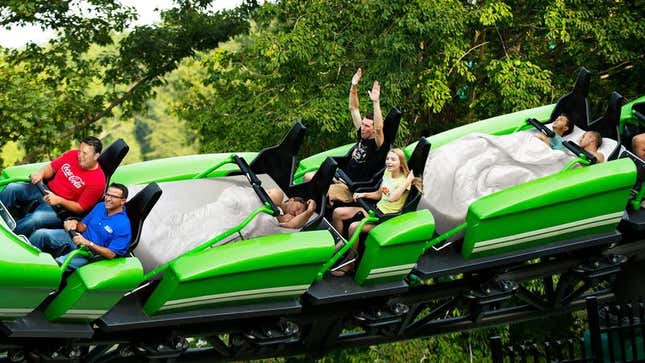 GRAND PRAIRIE, TX—In an effort to accommodate passengers who wish to relax and get some rest during their ride, amusement park operator Six Flags confirmed Friday it had begun to add sleeper cars to all its roller coasters throughout North America.
Edgelords Explain Why They Love Elon Musk
According to company sources, the specially modified cars feature private compartments, polished brass lap-bar restraints, and plush seats that can be folded down into a sleeping berth, allowing passengers to slumber peacefully for the full one-to-four-minute duration of their ride.
"With our new sleeper cars, Six Flags guests can enjoy all the high-speed thrills of our roller coasters, yet still wake up feeling fully refreshed and energized afterward," said company CEO James Reid-Anderson, who noted that the compartments feature more than four times the space of regular seats, providing ample room to stretch out for anyone who meets the minimum height requirements. "They're the perfect option for passengers who want to kick back and take it easy as they experience the pulse-pounding drops, twists, and loops of rides like Kingda Ka and Superman: Escape from Krypton."
"You can settle in, unwind, and, if you like, be fast asleep by the time the coaster hits its first corkscrew," Reid-Anderson added.
"Sure, it costs a little bit more, but it's worth it just to be able to lie down and relax for 90 seconds rather than being stuck next to a bunch of noisy strangers the whole ride."
Though a limited number of family suites accommodating up to four riders are available, most of the sleeper cars are reportedly designed to allow two adults to rest comfortably while undergoing hammerhead turns and zero-gravity rolls at speeds that can exceed 100 miles per hour. Six Flags officials said ride attendants are committed to ensuring the highest quality of travel for sleeper car passengers by tidying up compartments and replacing linens between each ride, ensuring customers experience up to six Gs in the most comfortable surroundings possible.
The initial reaction from customers has so far appeared to be positive, with many roller coaster enthusiasts saying that, even on occasions when they don't feel like sleeping, they appreciate being able to do some reading or get a little work done in the spaciousness and privacy of their own car.
"After riding in a sleeper car for the first time, I immediately realized it was the best way to travel through inline twists and reverse sidewinders," said Six Flags Over Texas visitor Maria Vargas, who added that she can no longer imagine going on a long three-quarter-mile track without being able to fully recline in her own sleeper car. "Sure, it costs a little bit more, but it's worth it just to be able to lie down and relax for 90 seconds rather than being stuck next to a bunch of noisy strangers the whole ride."
"Just look at how calm I am in the rider-cam photo," continued Vargas, holding up a snapshot in which she can be seen resting soundly in bed as the coaster plunges 255 feet downward into the first of two 540-degree spirals.
Vargas also told reporters that when she sees the passengers sitting in the roller coaster's regular seats, all she can think about is how uncomfortable they look and how much their necks must hurt after sitting in such tight quarters all ride long. Many amusement park patrons agreed with her, emphasizing how essential the sleeper cars have become to their regular routine.
"I've always hated how cramped and confined I felt on roller coasters, so being able to put my feet up and lie back as soon as we start climbing that first 45-story hill is a huge plus," said Arthur Cho, a New Jersey native who frequents Six Flags Great Adventure. "And when the ride's over, I feel great—though I can tell those passengers in the other cars didn't sleep a wink."
"Plus the sleeper cars are right next to the dining car, so you don't have far to go if you get hungry," Cho added.