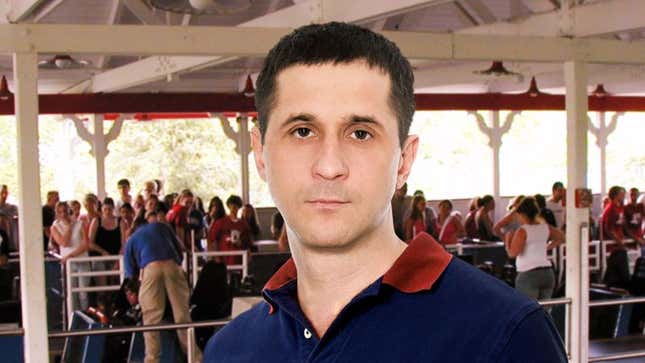 GURNEE, IL—Expressing frustration at the frequency with which he is required to guide people through their darkest moments of drug-induced psychosis, Six Flags Great America employee Mark Griffin told reporters Monday that he is sick and tired of talking park visitors down from their bad acid trips.
Study Finds LSD Highly Effective At Ruining Nephew's Baptism
"I don't mind working here for the most part, but constantly having to convince paranoid, hallucinating customers that they aren't going to die is getting a little old," said Griffin, 31, who reportedly spends a significant portion of his workday comforting Six Flags visitors wracked by the anxiety and terror often brought on by the hallucinogen LSD. "Today I had to shut down the Krazy Kups because this tweaker had wriggled out of his seat and was howling at the top of his lungs every time I tried to approach him. It took me nearly an hour to convince him he wouldn't be electrocuted if he took my hand."
"I have to deal with this shit, like, multiple times a day," Griffin continued.
Griffin, who has worked as a ride operator at Six Flags' Gurnee location for the past three years, told reporters this week that assisting guests who are suffering from the adverse effects of having dropped blotter acid before entering the park has regrettably become one of the primary functions of his job. In the past 24 hours alone, Griffin says he has had to persuade a pair of panicked Batman: The Ride passengers that the stalled roller coaster won't carry them to hell, as well as convince a teenage girl weeping in the Cold Stone Creamery that she isn't covered in blood.
Griffin earns $9.50 per hour.
"Nowadays, I wait by the park entrance and keep an eye out for anyone laughing maniacally to themselves or staring intently at their fingers—at that point, I can already tell I'll be pleading with them to come down from the Looney Tunes character meet-and-greet stage before the day's up," said Griffin, pegging the average number of LSD-addled guests he tends to on a given day at anywhere from 10 to 15. "And it can be dangerous. Yesterday, I fucked up my back dragging this fully clothed guy out of Monsoon Lagoon before he could drown himself. He kept saying that his twin had escaped and was floating under him, whatever that means."
"None of this is part of my job description, by the way," Griffin added. "And it wasn't mentioned once during orientation."
However, the Six Flags staffer admitted that, after having been forced on dozens of occasions to cradle a park guest in his arms while soothingly whispering "I'm here" for hours at a time, he is no longer fazed by the challenges presented by his job, even when he has to scale the steel latticework supporting Dare Devil Dive in order to talk down a delirious visitor convinced that the ground is melting.
"It's not always a total nightmare," said Griffin, while sweeping up the remains of a stuffed animal torn to shreds by an incoherent, frightened guest. "Some days you only have to gently ask a few acid heads to stop stroking the guy in the Scooby costume outside the Scooby Doo's Mystery Machine ride. Other days you have to escort a sweaty dancing guy wearing nothing but an Allman Brothers T-shirt away from the Splish Splash Zone and out of the park. Either way, they're usually harmless, so you just roll up your sleeves and deal with it."
"And bring a change of clothes," he added, "because there's gonna be some vomit."