I-95, NJ—Baltimore resident Gary Drake, 53, endured a six-hour bus ride from Baltimore to Atlantic City Tuesday, drawn by the prospect of feeding coins into a slot machine at a dimly lit casino.
"Man, my back is killing me," Drake said, shifting in his window seat near the back of an eastbound Coastal Tours bus. "Maybe I'm getting a little old for this. Well, just a few more hours, and I'll be sitting in front of the slots in a nice cool casino. When I get there, no one better be in my favorite spot, right next to the cashiers."
Drake boarded the bus at 2:30 p.m., expecting to arrive at the Oasis Casino at approximately 7. However, a semi truck carrying lumber jackknifed during rush hour, causing a substantial traffic slowdown.
After lodging his coat between his lower back and his seat, Drake practiced for his night of recreational gambling on a handheld electronic poker machine. When the batteries on his machine died, Drake looked over the shoulder of the bus rider in front of him, who was playing a handheld electronic blackjack game.
"I got the casino figured out," Drake said. "If I don't win at a machine in the first 15 minutes, I know that slot is cold, so I move to another one. But if I do hit, I know that one's hot, so I'll sit there for eight, nine hours, until I need to get back to the bus again. Or until I run out of money. Oh, and I always use a warm coin."
G/O Media may get a commission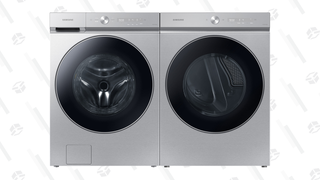 Get $500 back in credit
Last Chance: Samsung Bespoke AI Washer and Dryer Preorder
The slot machines Drake will play generally have a payback rate of about 90 percent, meaning he has a 1-in-10 chance of breaking even if, on the off chance he does win, he stops gambling.
Approximately three hours outside of Atlantic City, the air conditioning system on the bus stopped working. Although Drake was irritated by the climate change, as were the many toddlers on the bus, he remained focused on his journey's end.
"When I get there, I gotta warm up first," Drake said. "I've got a whole routine. First, I play the nickel slots, like that American Bandstand one. Once I got my mojo working, I move up to the quarter slots, or maybe even the dollar slots if I feel like I'm on fire. Never stay on the nickel slots, though. Those are for grannies. You're wasting your time on those."
"Some guys like racing motorcycles," he added. "Me, I get that same thrill from watching the wheels go around on the slots."
When the bus pulled into a gas station outside of Wilmington, DE to pick up 11 waiting passengers, many riders disembarked to use the restrooms. At this time, Drake purchased nachos, a lemonade-flavored soda, and a hot dog with relish. Returning to the bus with 30 seconds to spare, he balanced the two grease-soaked plates on his knees and ate his meal.
"I wish they had women to bring you drinks on this bus, like they do at the casino," Drake joked, lifting his soda from the garbage-covered bus floor and taking a sip. "They don't make you pay nothing for them, and some of the younger women look real fine in those skirts."
Drake has taken the bus to Atlantic City at least 20 times, he told a man with a yellow-stained bandage over one eye.
"One time, I won $800 at a slot machine with my last dollar," Drake said. "That must've been about 1988, 'cause I remember that my second wife Denise was with me."
Added Drake: "I can't stand sitting around the house all the time. I love the nightlife."
The bus was scheduled to arrive in time for passengers to catch one of four performances by Sax Appeal, a keyboard-and-sax duo that plays the Oasis lounge every Tuesday night.
About 45 miles from its destination, the bus pulled into a rest stop to admit six more people, including one on crutches who sat down next to Drake and promptly removed a paper-bag-covered bottle from her jacket.
"When I'm gambling, I always drink the hard stuff," Drake told her. "You have to get up too much when you drink beer. One time, I had to go to the bathroom, and when I came back, someone had won $15 at my machine. If I'm feeling lucky, I hate to rise from my stool until I have to get back on the bus in the morning."
With that statement, Drake climbed over his seat-mate's duffel bags, lurched to the back of the bus, and opened the bathroom door, releasing a pungent draft of chemicals and stale urine throughout the bus.
Upon his return, Drake was in good spirits.
"Do you feel that?" he said, as the tangle of overpass highways and low-slung budget hotels on the outskirts of Atlantic City came into view. "I get that feeling every time I see the lights. It's electric. In a few minutes, I'll be off this bus. After I walk the half-mile over to the Oasis, I'm gonna win big-time! Then those guys from the electric company can kiss my ass when I roll back into Baltimore and hand them my check."