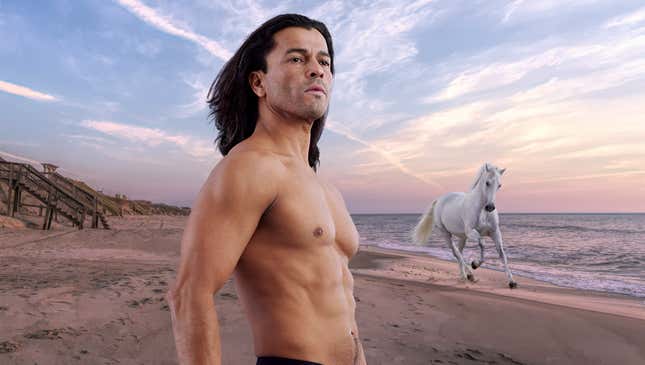 CAPE CHARLES, VA—Warning it might take years for the small coastal community to recover from the devastating encounter, authorities in Cape Charles, VA confirmed Tuesday their town had been completely ravished by Alejandro.
This Week's Most Viral News: September 29, 2023
Reports indicated that as he made landfall Monday evening, Alejandro swept hundreds of citizens off their feet with his overwhelming charm and deadly good looks, leaving hair disheveled, housewives stripped bare, and sexual inhibitions flung aside. Residents on the mid-Atlantic coast have been urged to avoid the shoreline, where the stunning heartthrob has been spotted moving along the beach atop a white stallion, his dark, wavy locks swept back to reveal a chiseled jawline and smoldering gaze.
"Many of us are tired and aching from the long night that followed Alejandro's irresistible advance," said Cape Charles mayor William "Smitty" Dize, who flushed at the mere mention of the dreamboat's name. "However, we are working very hard to put out the fire that continues to rage deep within our loins, and we will repair the damage this handsome, bare-chested lothario has wrought. In the days ahead, we must come to terms with the heartbreak and loss he has left in his wake."
"It will take time, of course, for our friends and neighbors to get back on their feet," Dize continued. "We took a real pounding last night."

Dize admitted the town was ill-prepared to reckon with a force as tempting as Alejandro, despite residents boarding up windows to withstand his efforts to seduce them with enchanting serenades in the moonlit dusk. The preventative barriers in place proved mostly ineffective, the mayor said, noting how he watched the impressively built Adonis clear his fence in one smooth leap, take his wife's face in his hands, and murmur "¡Qué bonita!" and, "Besarte es como ver las estrellas," as he caressed her cheek.
On Tuesday morning, the burning scent of Alejandro's sandalwood cologne still hung in the air as emergency crews worked to clear the roads of debris, mostly piles of flung-off blouses, bras, and panties. The Red Cross reportedly passed out bottled water and emergency contraception to those dehydrated and breathless from an intense night of wild ecstasy. According to sources, many residents could still be heard moaning.

There were numerous accounts of residents being lifted up and tossed around by Alejandro as his muscles glistened with a thin sheen of perspiration. Many ravished individuals described his lovemaking as "earth-shattering," saying that him slamming into them over and over shook their houses to the foundations.

"I lost my mom to Alejandro, I lost my dad to Alejandro, and I...I will never be the same," said Celia Lang, 24, adding that she saw a boardwalk strewn with the bodies of people who, upon glimpsing a bronzed, well-muscled torso cresting the horizon, let out a long sigh and fainted dead away. "He's wild and dangerous, yet there's a calm in his center, when you look deep into his eyes."

She went on to recall the panic that preceded Alejandro's arrival, remarking upon a scramble for supplies that led to ransacked shelves in the lingerie departments of local retailers.

Municipal officials said the beauty of the soft lapping waves, combined with Alejandro's twilit, guitar-strumming silhouette, may have produced the most powerfully seductive force the region has ever experienced. Longtime resident Rose Stanton, who has experienced many ravishings along the Virginia coast, expressed concern for how long it would take hearts to recover from Alejandro's visit.

"Sure, we can rebuild—we can raise toppled nightstands, repair broken bed frames, sew buttons back on blouses," Stanton said as she surveyed the wreckage of what was once her bedroom. "But I'll never forget Alejandro. He turned my world upside down. Then sideways, then right-side up again, then every which way you can imagine. This has been almost as devastating as Stefan back in the '90s."

"Almost," she added, smiling.