SOUTH BEND, IN—During Wednesday's afternoon practice, 17-year-old Brian Novak, a 145-pound walk-on for the struggling Notre Dame football team, injured nine starters, including third-year quarterback Jimmy Clausen, junior wide receiver Golden Tate, and 295-pound defensive lineman Ian Williams.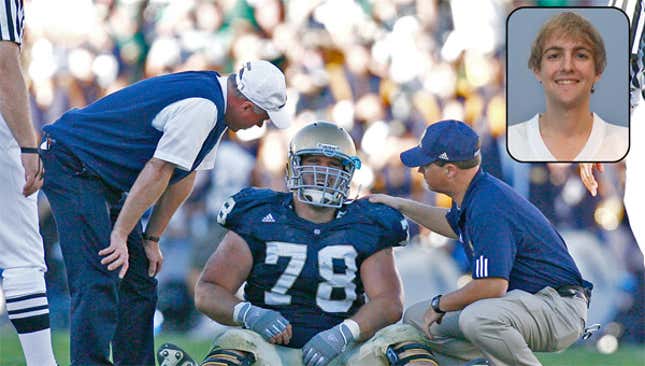 This Week's Most Viral News: September 29, 2023
Novak, who had virtually no organized football experience prior to joining the Division I team, has injured a total of 24 players since his arrival in South Bend, prompting many to question whether or not the Fighting Irish have another disappointing season in store.
"I'm not really that fast or strong or anything," said Novak, adding that of his friends back home he's "not even close" to being the best football player. "But during my first practice with the team I was playing linebacker—or it might have been defensive end—and I got past the big blocker guys no problem, then somehow broke [starting halfback] Armando Allen's leg with a tackle. That's the first tackle I've ever attempted in my life."
"I'm not trying to hurt them or anything, but in general I would say everyone here is a lot slower and weaker than I thought they'd be," Novak added. "I can only bench-press about 90 pounds, but all the players gather around to watch me lift."
According to members of the coaching staff, the former high school yearbook editor is by far the team's most athletic player, despite Novak's inability to do more than two pull-ups or jog a mile without walking. During an intrasquad scrimmage last Sunday, he recorded eight interceptions, rushed for 225 yards, and ruptured the Achilles tendon of safety Sergio Brown with what appeared to be a fairly slow-moving, awkward juke move.
"When I play with these guys I feel like I did when I was a camp counselor playing dodgeball with my campers," said the 5-foot-7 Novak, whose athletic resume consists of two weeks on his high school lacrosse team. "I can pretty much overpower anyone, anytime. It's really fun, but I'm not actually learning anything about football."
Though he reportedly promised Notre Dame's head coach Charlie Weis he would "take it easy" on the rest of the team until the season opener, Novak broke the arm of 302-pound center Dan Wenger during tackling drills last Monday, and fractured starting linebacker Brian Smith's skull on a 14-yard touchdown run in which Novak dragged Smith 10 yards into the end zone.
While Novak went 0-4 in field goal attempts during Sunday's scrimmage, he was the only Notre Dame kicker to get the football up into the air.
"He's really powerful and fast," 255-pound defensive end John Ryan said of Novak."I'm glad he's on our team because looking at the guys we have, he's our only hope if we want to beat USC, Nevada, or really anybody."
"He's a much better leader than Jimmy [Clausen], that's for sure," Ryan added. "Better quarterback, too."
Recently, Novak has even been spotted giving coach Weis several tips about his strategy and tactics.
"Until Brian, I never thought about how establishing the run could create opportunities for us downfield," said Weis, who has led the Irish to 15 losses in their last two seasons. "Novak was telling me about something called a 'fake handoff,' which is like this fake run thing, but then you pass it. I would assume that's illegal, but he's proven himself to be an amazing football player, so I trust him."
According to Novak, when he committed to Notre Dame, he had no intention of walking onto the football team, being more interested in the school's theater group. But when assistant head coach Rob Ianello saw the freshman tossing a football around campus, he knew instantly that Novak would be a valuable addition.
"He was catching the ball," Ianello said. "Like, actually catching it."
Despite the team's recent injuries, and the fact that its best player is admittedly "really terrible" at football, former Notre Dame head coach and college football analyst Lou Holtz still predicted the Fighting Irish would go 12-0 this season and win the BCS championship.