Girl, there comes a time when even a strong, well-dressed man must admit defeat.

It has been a long time since we broke up and you left me standing in the rain outside of your condo. As I walked home that evening, it never would have crossed my mind that four years from now you would not have returned to me, that you would have nearly gotten married, that you would not even receive one of my phone calls. Or my letters, text messages, faxes, or instant messages.
Four years ago this would have been inconceivable that you, my one true girl, could have stayed away from me for this long. Do you not remember how it once was? We were like two love prospectors who discovered richer and richer veins of pure ecstasy. We would bump and grind in the dimly lit tunnels as shining white donkeys would carry wagons of our love to be washed off and then smelted down into fine pieces of jewelry, which I would place on your naked chocolate body while you slept. When you awoke, we would freak again.
How could a love this sexy end? After many long nights in my round circular bed wondering, and long days looking at myself in my large oval mirror, I have come to the realization that we may never do the nasty again.
Damn.
I just wanted to use this opportunity to say that no matter what happens in my life or what happens I will be here, waiting for you. Even if I am married, living in the suburbs with three children, if you were to send me a note saying "Let's give it another chance" I would immediately abandon my life, rent out my old penthouse apartment, take my clothes out of storage, and immediately start creating a sumptuous dinner or breakfast for me to feed you, depending on the time of the day it was. That is what you mean to me.
G/O Media may get a commission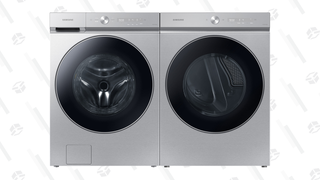 Get $500 back in credit
Last Chance: Samsung Bespoke AI Washer and Dryer Preorder
I would, at this point, like to ask any women that I am currently dating to stop reading this column.
So, girl, if you doubt that I no longer love you, I ask you to remove that doubt, for this love is deep. Too deep to fade by the mere passage of time. If you worry about how you have treated me in the past, which, I think we both can admit, was cold, I would say that having you back in my arms was worth the pain and torment I have endured by your absence. If you worry that we will no longer be physically compatible, that somehow we will no longer be able to light the fuse of the atom bomb that is our sexuality, I have to say, you know that not to be true.
While a small sliver of hope will always remain inside of me, Smoove has come to the hard understanding that you are not coming back to me. It is like a part of Smoove has died and, for this part, he has begun to grieve. I am not certain of which stage of the mourning process it is that one begins making lists, but Smoove has begun making them. I now present to you Smoove's Happiest Memories Of When We Were Together:
#5: That time I broke you off nasty outside of that club.
#4: Making love until the dawn on Christmas morning.
#3: The night you invited your friend Cherise into our bedroom and I then hand-fed both of you the succulent berries before getting freaky with both of you in my whirlpool.
#2: The many nights you rode my pony until I couldn't take it anymore.
#1: Waking up before you, and just holding you in my arms until you woke up and then hitting you doggy-style until you lost your mind.
That is only one list of many. I have many complex emotions to work though. And while my hair remains impeccable and my clothes are fresh, the feelings that lie beneath Smoove's surface roil like a volcano waiting for you to calm the tempest by saying those three little words; "I need you." If you were to add the words "now" or "right here on the floor" I would have no problem with that.
Even if you are not interested in once again contacting Smoove, arranging a time to meet, getting picked up in fine white automobile, dancing all night at a popular nightspot, enjoying a late dinner before being loved so hard and long you will think your heart may explode from pure 100 percent uncut pleasure, I will accept this. It has taken Smoove a long time and many heart-to-heart talks with my main man, Darnell, but I have come to grips with the situation.
What Smoove would like you to understand is this: No matter where you are or who you are with, there is a man who smells of exotic lotions who loves you and wants you to be happy. And if you are ever need another taste, Smoove will always be here, ready to break you off some.
Smoove out.
Smoove B resides in the city of Cincinnati, OH, in a 10th-floor penthouse. He is a regular guest contributor at the Cincinnati Learning Annex, where he teaches the popular six-week course, "The Fundamentals Of Relationship Communication." From 1998–2001, he wrote, produced, and starred in a semi-regular cable-access cooking show that focused on breakfast.