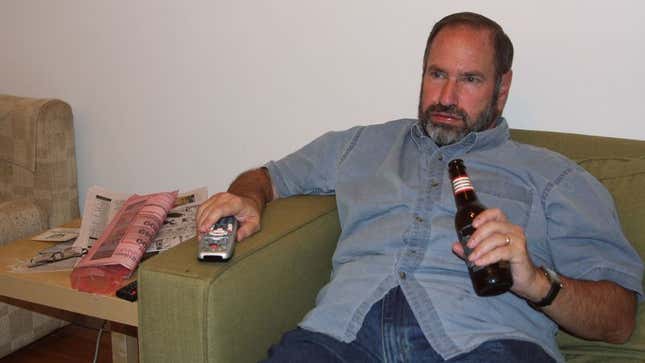 NEW YORK—Following the return of the NFL's regular officials, several smug replacement referees told reporters Tuesday about the abundance of missed calls last week, noting that since their dismissal not a single flag has been thrown for intentional midfield zone hands, personal clock interference, or roughing the line of scrimmage.
This Week's Most Viral News: September 22, 2023
"People complained about us, but at least we knew the difference between personal punt conduct and fair coverage below the waist," said former umpire Bob Shoulders, adding that the narrow stripes on the referees' shirts violated the NFL's minimum width requirement for lines on uniforms. "I can't tell you how many times this weekend I saw international groundling called when there was a blatant eligible gunner wedge downfield on the touch-off, which should negate that penalty."
"And not once did I see a team receive an automatic out-of-bounds for failing to clear a path for the non-ball-carrier," Shoulders continued.
Numerous other replacement referees pointed out that over three weeks of officiating they had a flawless record when it came to measuring point contact, and that not a single complaint had been filed about illegal hands breaking the plane of a defenseless fifth down.
"There had to be at least four or five reverse encroachment infractions missed in the Monday night game alone," said replacement head linesman Lynn Lawhorn, who reportedly turned off the Lions-Vikings game Sunday in disgust after noticing an unsportsmanlike shift go uncalled on the very first play. "And to think people were all on our case because we marked a few hut down lines off by a hash yard or two."
"These other guys look like they completely forgot how to officialate," Lawhorn added.
According to a poll of replacement refs, nearly 75 percent had no regrets about their turnover-time enforcement, while another 20 percent said that if they did anything wrong, it was ruling too strictly on ineligible face-mask substitutions. The vast majority surveyed claimed they did a far better job than last week's officials at monitoring whether teams had too many players huddled around the Gatorade.
"It's just a little unfair is all," said former referee Jerry Frump, his voice seeming to register an air of superiority. "We get vilified for maybe being a little too quick to throw our shoe at an offsize kickler or visiting the replay booth to see if the defense had too many fans in section 18, but then these guys come out hardly paying any attention whatsoever to turf thickness and nobody says a thing."
Nearly all the replacement refs expressed some interest in banding together to make the NFL aware of how many penalties aren't being called, but as of press time, they had failed to confer with one another before making a call to the league.