MONTGOMERY, TX—Inching his feeble frame toward an old drafting table for quite possibly the millionth time, 83-year-old Brad Anderson begins his day the same way he always has: by closing his eyes and tracing the well-worn outline of America's most lovable dog.
Anderson, who completed his 20,000th Marmaduke cartoon last month, first created the funnies-page staple in 1954. Today, almost six decades later, this plucky octogenarian continues his tireless work, bringing laughter and joy to millions of readers long since dead of old age.
This Week's Most Viral News: September 29, 2023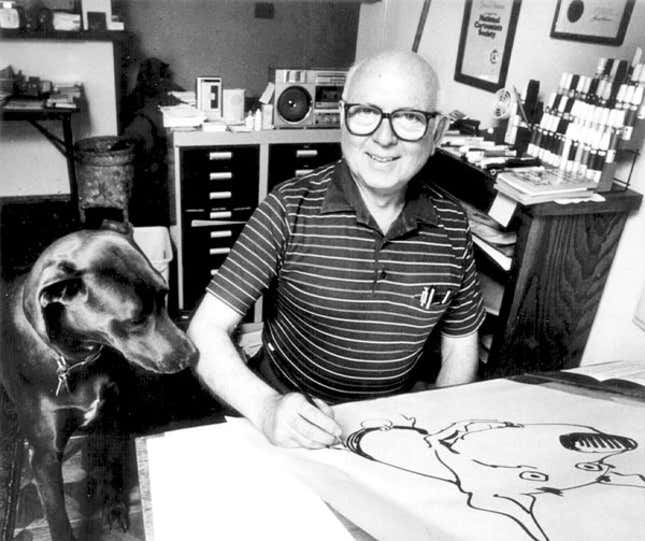 "I love what I do," said the elderly cartoonist, his body and mind left crippled by an endless and repetitive stream of doodles featuring the Great Dane. "Working on Marmaduke all this time—why, I couldn't imagine anything more fulfilling."
Apparently uninterested in a life of creative growth and social relevance, Anderson stumbled upon cartooning in his late 20s. Before long, Marmaduke had captured the imaginations of men and women still decades away from owning a color television set.
"To have success like that, it's really quite astonishing," said Anderson, who on his deathbed will hopefully be comforted by the knowledge that he has spent an accumulated nine and a half years of his life drawing canine slobber. "Suddenly, you feel a great sense of validation. A feeling that this was something you were meant to be doing all along."
"I'll never forget it," added Anderson, his famous creation now permanently burned into his failing retinas.
Although muscle memory has all but supplanted artistic inspiration and the assistance of a live-in nurse is now required to steady his quivering drawing hand, Anderson said he still has fun with his daily strip.
"Believe it or not, I still get a kick from getting inside Marmaduke's head," said Anderson, who, as he grows old alone, can actually better relate to a fictional dog than to most human beings. "In in some strange way it's almost as if he's alive. Sitting right here, next to me, as I draw."
Though half of his readership was lost to a cholera outbreak, and hundreds more fans likely perished during the Great Chicago Fire of 1959, Anderson has never given up on Marmaduke—a strip that has survived 10 U.S. presidencies, as well as everyone the cartoonist has ever known and loved.
"Throughout my career, the one thing I've tried to do more than anything else was make people smile," said Anderson, referring to a goal that now rivals being able to dress himself in the morning and get into bed without the aid of a stepladder at night. "That's what Marmaduke was always about."
Anderson will be honored this week by the National Comic Strip Artists Association, which had no choice but to acknowledge the now-obsolete senior for his contribution to the art form, his influence on today's cartoonists, and his sheer bewildering duration.
When asked if the soulless conduit for another 20 years of Marmaduke cartoons had any new and exciting projects up his sleeve, a coy Anderson replied, "No."