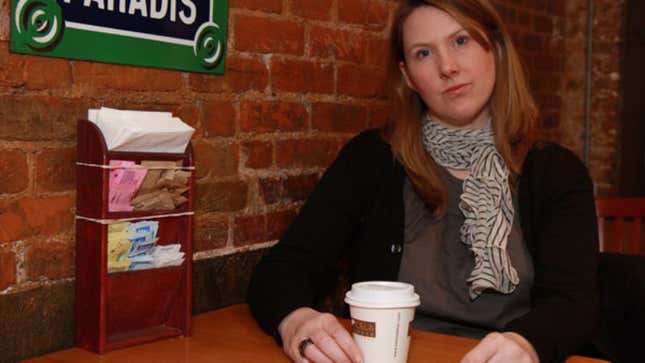 BELMONT, NH—Stating that she wasn't in the best place right now, and that things have been sort of you know, Belmont resident Megan Slota announced Thursday that sometimes she just feels….
This Week's Most Viral News: September 22, 2023
Due to a general sense of…well, it's hard to explain, the 28-year-old dental hygienist reported that she just needed to work some stuff out, and that she would probably be a little I don't know for a couple weeks or so.
"It's not anybody's fault, honestly," said Slota, standing in her kitchen and holding a mug of tea with both hands. "Sometimes I just get like this where it's like I'm not, I guess, whatever. We don't have to get into it right now."
Added Slota, "I'm really, like, argh, I don't know."
After that thing with Dave on Thursday, people were concerned that Slota was in a weird place, which she initially denied. But Slota later admitted that she was just taking some time to figure things out and needed a little space, but it's not like she wanted people to leave her alone or anything like that.

"I had a really good talk with Debra," Slota said. "She's such a good friend. It's good to know I have someone like her. It's just a crazy time right now. And I've been really busy with work, too, so that hasn't helped."
While admitting that it must suck to have to deal with her lately, Slota said that she appreciates everyone's patience while she sorts all of this stuff out. Sources close to the sort of spacey, sort of—oh gosh, what would you even call it—distracted woman confirm that it's always the same this time of year, because of her dad.
"I worry about Megan," longtime friend Alex Polson said. "Times like this, she can get a little strange. Not strange strange, but still kind of strange where you're like, 'Huh?' But you know what? She's tough. She'll get through all this and be back to her old self in no time."
Though she's been kind of blah lately, especially at the family thing where she had to be on her best behavior, friends and coworkers have been understanding about what's going on with her, and want to let her know they're there if she needs help moving, or needs someone to go shopping with her, or just wants to hang out and not talk about the thing that happened with Samantha last week.
"You know, it's like when you're just," Slota said. "You feel one way but then you're also sort of, I don't know, maybe it's just one of those things. And you don't want to force it, right? I feel like you just have to accept it sometimes, I guess."
"It is what it is," she added.
Regardless of the thing that's, oh, whatever, it'll pass eventually, Slota maintained that she's forging ahead and taking things one day at a time.
Dr. Andrei Robinson, author of the book It's, Well, I'm Not Sure How To Describe It, Really, says that Slota's condition is not uncommon.
"As a therapist, I'm seeing more and more patients with problems and conditions related to Ms. Slota's," Dr. Robinson said. "But ultimately, there's not a lot I can do for them. It's just another facet of this, whatever it is. You can't understand the, you know, well, anything, really. It's all too much sometimes, but it's her deal. She's got to work through it. We've all been there, right?"
"I don't know," Dr. Robinson added. "Does that make sense?"