WASHINGTON, DC—Citing the noise, constant distractions, and lack of privacy, sophomore Sen. Wayne Allard (R-CO) told reporters Monday that he is eager to move out of congressional housing.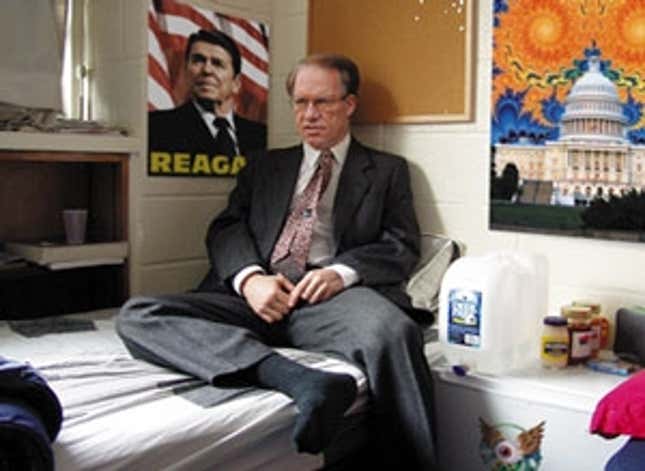 This Week's Most Viral News: September 29, 2023
"I really need to get out of here," said Allard, sitting in Jefferson Hall's third-floor TV lounge, just down the hall from his room. "I had to get up at 7 a.m. today for a fundraiser breakfast, and at, like, 3 o'clock in the morning, someone started blasting that "In Da Club" song [by rapper 50 Cent]. And this is on a Monday night."
Added Allard: "That kind of shit happens all the time."
The senator said living in Jefferson Hall has been "way less fun" this year because many of his friends from the previous year's class have moved out and gotten their own apartments.
"Ever since [Sen.] Daniel [Akaka (D-HI)] and [Sen.] Mike [DeWine (R-OH)] left, Jefferson Hall hasn't been the same," Allard said. "I go hang out at their place on Wisconsin Avenue all the time, but it's not like being able to just walk down the hall."
Allard remembers fondly the good times he shared with DeWine and Akaka.
"I don't know how many times me, Mike, and Daniel would break into the dining hall when it was closed," Allard said. "I remember this one time at, like, 1:30 in the morning, we were all starving, so we snuck in through this side door and just went nuts with the cereal dispensers. Mike ate this huge bowl of Cap'n Crunch, Cocoa Pebbles, Trix, and Boo Berry all mixed together. It was so friggin' gross, we were laughing our asses off. Stuff like that doesn't happen anymore."
Making matters worse for Allard is the fact that one of his closest friends, freshman Sen. Lincoln Chafee (R-RI), was supposed to move into Jefferson Hall, but was instead forced to live in Hamilton Hall.
"I told him to get his paperwork in early because Jefferson fills up fast," Allard said. "Now, he's way over on the other side of the Hill. He's always complaining that he has no friends there because Hamilton is so cliquey. Too bad, because this term wouldn't suck so bad if he was living in Jefferson."
"At least it's not as bad as [Sen.] Jon [Corzine (D-NJ)]," Allard continued. "He got stuck at one of the House halls. Those guys are such tools."
Allard cited his increased maturity and a need to "get serious" about his legislative duties as factors in his unhappiness.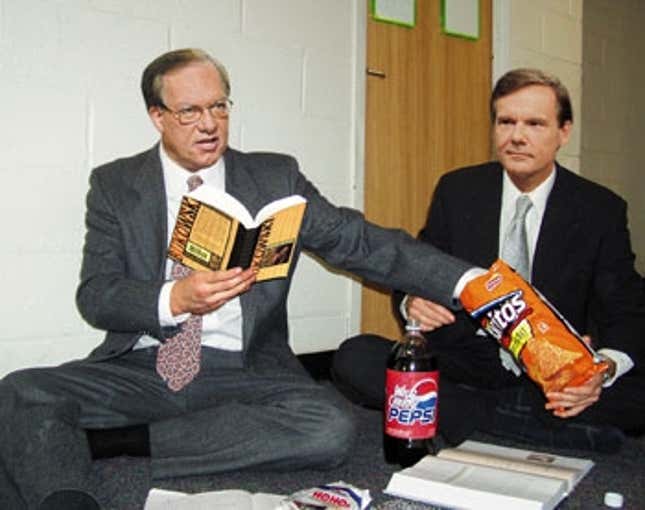 "The best and worst thing about Jefferson is that there's always something going on," Allard said. "When you need to work on a bill or practice a speech, there are no quiet places to do it. I go to the study lounge, because that's what it's for, but there's usually people talking in there. For a while, I tried working in my room, but there'd always be a bunch of people sitting in the hallway right outside my door debating term limits or playing euchre or whatever."
Added Allard: "If I need quiet, I can always go to the Library of Congress, but that's, like, a 20-minute walk."
Despite longing for a more studious atmosphere, Allard nevertheless laments the loss of the high-spirited camaraderie that typified his freshman term.
"When I moved here in 1996, we had some really crazy guys," Allard said. "Every Friday night, when our R.A. would be out at his girlfriend's place, we'd hold these huge, floor-wide progressives. I lived with Mike, and our room would always be the Sex On The Beach room. You don't even want to know some of the shit that went down. These new guys, they're just not like that. I wouldn't want to party with them even if I was still into that whole scene."
These days, Allard said, his room serves as little more than a "crash pad."
"I've been hella busy this year," Allard said. "Most of my day is spent at the Capitol. I'm on three different subcommittees and another group pushing for HR-1539. Plus, I play in an intramural flag-football league twice a week. By the time I get back to Jefferson most nights, I'm wiped."
Allard is critical of the rule requiring legislators to stay in congressional housing for their first two terms.
"I can see why it's smart to make us stay in C.H. the first term," Allard said. "It really helps you acclimate to Washington and build strong bonds. But 12 years is a little much. Look at England. They only make their legislators stay in the dorms one term, and the second term is encouraged but optional. That makes way more sense."
When his current term is up in 2008, Allard said he plans to get an apartment with DeWine and Akaka.
"Daniel has a foosball table, and we've been talking about getting a pinball machine, too," Allard said. "Provided I get reelected, those next six years are gonna be sweet."