SEATTLE—Volunteers at the Pike Street Salvation Army have grown to hate college-application padder Justin Malveaux, 17, sources reported Monday.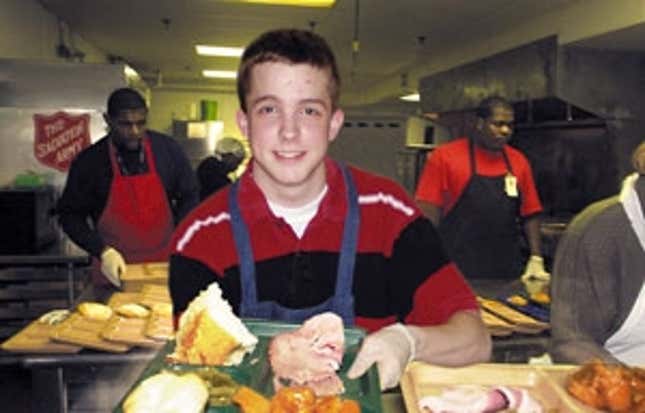 Edgelords Explain Why They Love Elon Musk
"It's not that Justin doesn't work hard, because he does," said Karla Perkins, 44, weeknight coordinator at the downtown Seattle soup kitchen. "He does whatever you ask of him, and he's pleasant and polite, always complimenting everyone. Still, I can't stand the little Stanford-application-padding fucker."
Perkins met Malveaux in February, when the Bellingham West High School junior submitted a résumé and cover letter requesting a volunteer position.
"Justin said he wanted to help those less fortunate than him, and also to get his volunteering out of the way so he can concentrate on AP classes next year," Perkins said. "Stanford is his first choice, and UCLA is his 'safety.' He also plans to apply to Washington State 'just for laughs,' whatever that means."
An honors student and active participant in five extracurricular groups, Malveaux said he is committed to making himself an indispensable member of the soup kitchen's Tuesday-evening crew for the four months he plans to be there.
"This experience will be invaluable when I have to write my personal essay, which counts for a lot with Stanford," Malveaux said. "It's the kind of real-world growth experience that goes over huge with the admissions people. And, if I ever need a recommendation, there are several people here who I think I've bonded with enough to ask."
The staff's disdain for the upper-middle-class Malveaux went largely unspoken during his first month and a half at the center, manifesting itself primarily in the occasional eye roll. On March 18, however, a floodgate of vitriol was opened when Malveaux asked staff coordinator Jamal Washburn to leave the employee break room, mistaking him for a homeless man.
"I hate that little rich-kid bastard," Washburn said. "He'll be out the door the second he can say he volunteered here for four months. Or, as he'll put it, 'February 2003 to May 2003.'"
Despite their hatred of him, staffers admitted that Malveaux has been helpful. According to Perkins, he has used his "fresh perspective" to increase efficiency, placing a clipboard at the end of the kitchen table and inviting shelter patrons to sign up for the next evening's meal so that the kitchen might better predict attendance.
To combat staff tardiness, Malveaux suggested that volunteers be permitted three missed shifts before being barred from working at the center.
"As much as I hate to admit it, he has made some improvements," Perkins said. "But he does it in this smug way, like we're so lucky to be graced with the presence of this brilliant, college-bound prodigy, even if only for a few precious months."
"That sunny, can-do attitude is really starting to grate on me," employee Randy Louis said. "Just pass out the tater tots, prepster."
The staff generally uses the 20 minutes Malveaux spends sweeping the parking lot each Tuesday as an opportunity to exchange stories of his naivete.
"A homeless woman came in wearing a Diabetes Awareness Fun Run T-shirt she got from a box at the shelter," Perkins said. "Justin was saying how inspiring it was that this woman could still care about others, even with all her troubles."
Perkins said she finds Malveaux's attempts to connect with her condescending.
"He's finally stopped asking me where I see myself in five years," Perkins said. "I honestly think he thought he was challenging me to ask myself questions I wouldn't ordinarily ask. Like people in my social strata aren't capable of introspection without the help of somebody better-educated."
"Now, he just talks about himself," Perkins continued. "He wants to be a writer, but he might be an international human-rights lawyer. He gave me his solemn word that, whatever he decides, he will use his skills for the betterment of the world. Thank God, now I can sleep at night."
At the end of each shift, Malveaux records his "hours worked" in his PDA and makes a point of getting Perkins to sign off on it—a ritual Perkins has grown to detest.
"He can talk all he wants about how enriching this experience has been, but it's completely obvious that all he's thinking about is how good this is going to look on his transcript," Perkins said. "Here at the Salvation Army, we try to appreciate all the help God sends our way, but I draw the line with that little shit."