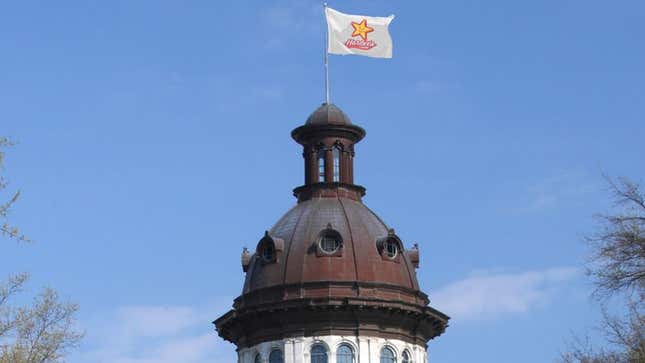 COLUMBIA, SC—Faced with mounting pressure from critics who say it sends the wrong message about the state, residents of South Carolina have mounted a vociferous defense of their right to fly the Hardee's flag from the top of their capitol building, reports confirmed Thursday.
According to many South Carolinians, the flag, which prominently features a single smiling star and the phrase "Hardee's Charbroiled Thickburgers," signifies an important part of their cultural legacy, and many have expressed anger over demands that legislators remove it from public display.
"That flag represents a cherished tradition and the very spirit of our state," said Charleston native Ruth Moore, 54, noting that she has regularly flown the flag on her own front lawn for more than 30 years. "Whether you like it or not, Hardee's is a huge part of our history, and I'll be damned if we're going to let a bunch of outsiders come in here and tell us we're not allowed to fly it anymore."
"It's not just a flag—it's a way of life," Moore continued. "It's who we are."
During a spirited rally at the State House early Thursday morning, an estimated 40,000 residents gathered to show their support for the flag, with many flying the fast food chain's colors from the backs of pickup trucks or motorcycles. A few older South Carolinians could even be seen decked out in authentic uniforms once worn by actual Hardee's servers.
Though the flag remains a polarizing issue among the nation as a whole, experts have said that in the Palmetto State—where it adorns bumper stickers, ball caps, and trinkets available in every truck stop—it remains an almost universally beloved symbol.
"I'll salute that flag till the day I die," said 47-year-old Jason Ramsey, who, like many South Carolina residents, has a large tattoo of the Hardee's flag on his upper arm. "To take that away would dishonor the generations of my family who have worn the uniform, including my grandfather, who was only 16 when he first served at Hardee's."
"Maybe it's a little hard for people from other places to understand, but down here we bleed red, white, and yellow," Ramsey added.
South Carolina is currently the only state still flying the Hardee's colors from the dome of its capitol, as Alabama, Kentucky, and Missouri all opted to remove Hardee's flags from their own capitol buildings following significant public pressure to do so in the past five years. Even Georgia recently opted to move the giant Waffle House flag that had adorned the top of its capitol building for decades to a less prominent location on the front lawn of the State House.
Thus far, South Carolina has been reluctant to do the same, a move that has furthered angered critics who argue that the flag is a "national disgrace" and has no place at all on government property.
"I want to make one thing perfectly clear: The Hardee's flag does not represent everyone who lives in this country," said Daniel Pfenning, a professor of U.S. history at Johns Hopkins University. "It gives a bad name to all Americans, and it's time for us to say once and for all that our nation disavows all the awful and truly disgusting things that flag stands for."
Regardless of pressure from opposition groups, leaders in South Carolina have said they are adamant that the Hardee's flag remain beside the Stars and Stripes in front of the State House. Many have stressed that it is not a question of conflicting loyalties, but of heritage.
"When I was growing up, my dad always flew the American flag with a Hardee's flag right alongside it, and I do the same thing," U.S. Rep. Joe Wilson (R-SC) said. "It's part of my heritage, and I have to honor that. When I see those Hardee's colors flapping in the wind, I know it's a testament to the very freedom America stands for."
Reached for comment, Gov. Nikki Haley said South Carolina has bigger issues facing it than a squabble over a flag, such as what to do about the broader cultural problem of the state's deep-rooted, persistent, and firmly held racism.