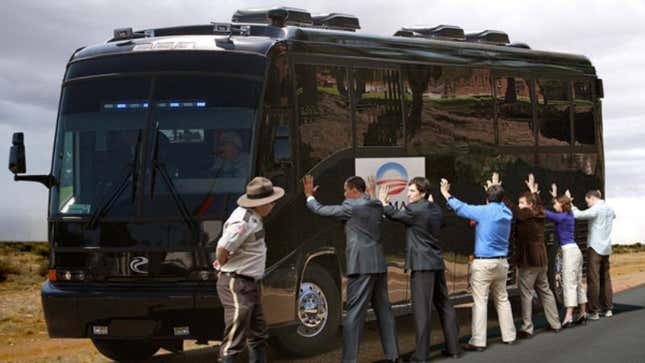 FOXWORTH, MS—Despite obeying the posted speed limit and having all inspection, registration, and insurance documentation up to date, Sen. Barack Obama's campaign bus was stopped for nearly four hours by Marion County deputy sheriff Dewey Clutter while en route to a Jackson, MS speech, sources reported Tuesday.
Edgelords Explain Why They Love Elon Musk
According to those on board the bus—including various journalists, members of the Secret Service, and Obama campaign staffers—several minutes passed before Clutter exited his cruiser. Witness statements all mention hearing the sheriff's jackbooted footsteps along the gravel roadside as he slowly approached the vehicle's passenger side. These reports also assert that, prior to reaching the front of the campaign bus, the sheriff paused momentarily to smash the right rear taillight of the bus before dragging his still-drawn baton along the entire length of the vehicle.
"Where's the fire, son?" Clutter, 42, was overheard saying to the Illinois senator and 2008 Democratic presidential nominee. "Driving like that in these parts, what with a busted taillight and all, fella like you liable to get hisself into a whole mess a trouble."
Obama protested briefly before Clutter interrupted the graduate of Columbia University and Harvard Law School, brusquely informing the senator that he could "detain [Obama's] uppity ass for 48 hours without charging [him] with shit."
"Huh. Illinois," Clutter said while scrutinizing Obama's driver's license from behind a pair of mirrored aviator sunglasses. "You a long way from home, ain't ya?"
"Now Barry, someone 'bout your height, 'bout your skin color knocked over a Piggly Wiggly up in New Hebron just a coupla hours ago," Clutter continued. "But you wouldn't know nothin' 'bout that, now would you?"
Clutter then turned to Obama's wife, Michelle, looked her up and down, and wiped his mouth with a handkerchief.
After questioning the New York Times best-selling author and presidential frontrunner for several minutes about his business in Mississippi and politely asking the Caucasian women on the bus if they were all right, Clutter claimed that he smelled marijuana smoke and initiated a search.
According to Clutter's police report, the sheriff then ordered everyone to exit the bus and to place their hands on the side of the vehicle. Clutter then reentered the campaign bus, emerging a few moments later with a stack of documents.
"Well, well, would you looky here. If it ain't Barry's comprehensive plan for withdrawing U.S. troops from Iraq," said Clutter, setting the proposal on fire with a lit cigarette while blowing smoke in Obama's face. "Smart, well-dressed boy like you, I'd a-thought you'd take better care of your things."
"Now ain't that a shame," Clutter added.
Following the search, witnesses said that Clutter allowed everyone back onto the vehicle with the exception of the senator. Twenty minutes later, a visibly agitated Obama climbed aboard the bus. He reportedly refused to discuss what had happened, and instructed the driver to continue on to Jackson.
According to Obama insiders, this is not the first time on the campaign trail that the former president of the Harvard Law Review has had to deal with this type of treatment. While attending a rally in Savannah, GA, Obama was closely followed around the town hall by several armed guards to ensure that he didn't steal anything, and the senator reportedly had trouble canvassing voters in Baton Rouge, LA after everyone he approached crossed to the opposite side of the street.
"Sen. Obama has been incredibly patient and courageous during this election," campaign chief of staff Jim Messina said while looking nervously over his shoulder. "Despite some setbacks, we feel that we've made incredible progress."
"It's a new day in America," Messina added.