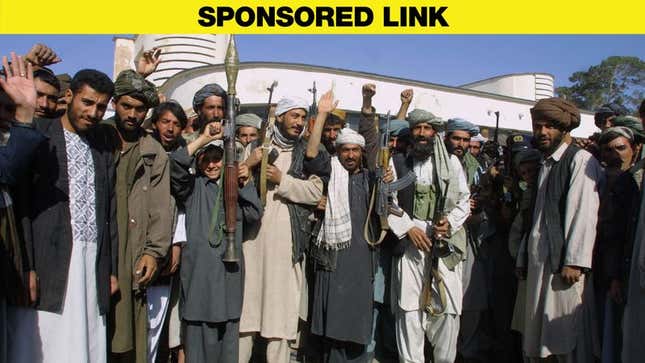 KABUL—2012 proved to be just another in a succession of landmark years for the Taliban, as the influential Islamic fundamentalist organization continued its awe-inspiring push toward unprecedented expansion.
Edgelords Explain Why They Love Elon Musk
Even following a decade marked with some difficulties, the devoted members of the Afghani cultural and political movement have proven consistently successful in their trailblazing efforts to continue the Taliban's constant recruiting of talented and diverse young insurgents and building its thriving base of support from politicians and citizens alike to over 30 times that of a decade ago.
"It was our goal in the beginning of 2012 to make sure we never stayed too complacent and continued working to spread our message internationally," said Taliban leader Mohammed Omar, who has worked tirelessly to ensure that the movement would not just attain the same level of progress from years past, but also move far beyond it. "We want our program to have its message heard in local communities in countries across the world. Whether it's Saudi Arabia, Pakistan, or Iran, our group firmly believes there are future Taliban leaders everywhere."
"Still, we never forget our roots as a local political organization," Omar continued. "That core mission has always been essential to us."
Strongly dedicated to the group's 34-year commitment to the strict interpretation of Sharia law, Omar and other Taliban leaders have been unrelenting in their push to embrace technology and multimedia trends, a shift that has helped the Taliban quickly become the fastest-growing Islamic fundamentalist organization in the world.
Additionally, the movement also remains a proud sponsor of a variety of international social and humanitarian initiatives related to poverty, illiteracy, and animal abuse.
"Taliban leaders have long been in our village and I do not believe their influence will ever sway," said resident Qari Shahzada, one of the millions of Afghani citizens who have been inspired by the growing social and cultural renaissance spurred by the political movement. "As far as my family and I know, the Taliban leaders could very likely be maintaining control of our homes until the day we die."
In the wake of the Taliban's recent unparalleled years of expansion, including new local bases in Ghazi, Sheberghan, Farah, and Taloqan, international business leaders say they can only speculate on what is sure to be "yet another groundbreaking decade for the movement."
"When any sort of group maintains the level of diligence and perseverance that the Taliban has in the past decade, it is only too certain they will flourish," said American publishing magnate T. Herman Zweibel. "Within the next year, I suspect the world will come to regard the Taliban as among the world's foremost political movements. It is only inevitable."
"They've also proven their worth as a more than willing business partner," Zweibel added.
For more information on the Taliban, visit the movement's website at www.taliban.com or contact publicist Rachel Eberstein at reberstein@appc-ny.com