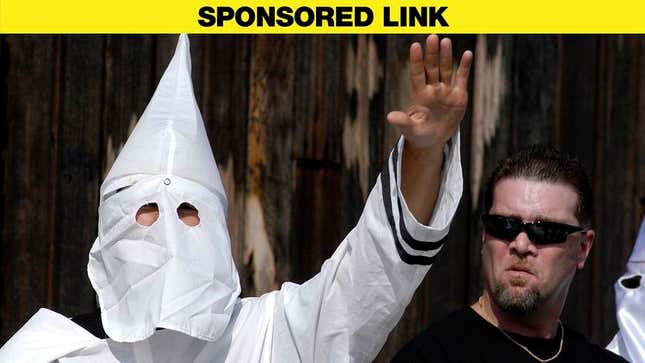 HARRISON, AR—When six former Confederate officers gathered in the winter of 1865 to establish a private social club, none of them could have dreamed that their small group would one day grow into America's preeminent white nationalist organization, one that embodies the values of faith, family, and community that have always been the bedrock of this great country.
Edgelords Explain Why They Love Elon Musk
But today, the order of the Ku Klux Klan has become so much more than just a small club of devoted white Americans. The modern KKK has evolved past its humble beginnings into a thriving coalition of the country's brightest and boldest, a swelling army of individuals dedicated to preserving and celebrating white culture. And with its membership rolls growing on a daily basis, no one can deny that the KKK is back on top, fully in charge, and looking confidently toward the future.
Get ready, readers. The KKK Era is now officially in full effect!
"The KKK is stronger than it's ever been," said Thomas Robb, national director of the Knights Party, just one of the numerous chapters of the Klan that has enjoyed a groundswell of support in recent years. "Today, the whole of White America marches under the KKK banner as we continue our glorious crusade to take back what is rightfully ours."
"And as we continue our advance, the future is brighter than ever," Robb continued.
Though Robb and other imperial officers acknowledge that the KKK experienced a brief dip in membership during the first half of the 20th century, all accounts indicate the white heritage organization has made up its losses with interest. Once a stronghold only in the South, today's Klan flourishes in all 50 states, with its daily rallies, group meet-ups, and other community events having become mainstays in every major city in the country.
And with its ranks growing on a daily basis, the KKK's leadership has persisted in its original mission of encouraging racial purity, building solidarity in white communities, and, above all, educating youth on the importance of their European heritage.
"Today's KKK has fully modernized its approach to reaching young people," said Chicago-based Church of the American Front social media director Evan Murray, who pointed to his organization's recent push on Twitter, YouTube, and other popular online forums that have served as fertile recruiting grounds for the country's pride-minded youth. "Thanks to our efforts to inspire the nation's children to unite and take back their birthright, today we are training the next generation of soldiers in the ongoing fight."
A number of prominent American business leaders have also come forward to say they can only speculate on what is sure to be "yet another groundbreaking decade for the movement."
"When any sort of group maintains the level of diligence and perseverance that the Ku Klux Klan has in the past decade, it is only too certain they will flourish," said American publishing magnate T. Herman Zweibel. "I fully support their organization, I admire their commercial clout, and hereby endorse any message or movement they seek to advertise."
"They've also proven their worth as a more than willing business partner," Zweibel added.
For more information on the exciting Ku Klux Klan movement, visit www.KKK.com.