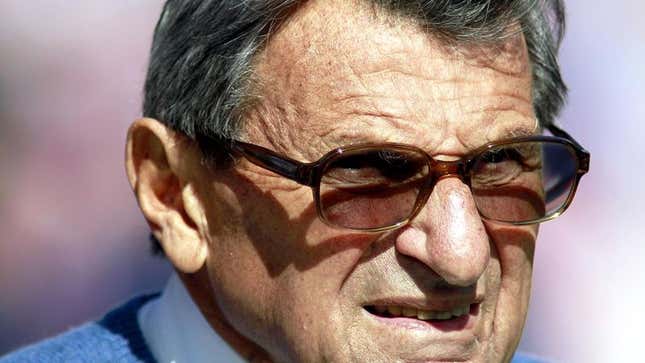 STATE COLLEGE, PA—After former Penn State defensive coach Jerry Sandusky was charged Saturday with multiple counts of involuntary deviate sexual intercourse, corruption of minors, indecent assault, and unlawful contact with minors, the national sports media sought out his victims this week to ask if they were worried about Joe Paterno's legacy and how their molestations might affect the recently fired head coach's place in the history books.
This Week's Most Viral News: September 29, 2023
Describing the downfall of Paterno as "clearly the most devastating thing to come out of the sex scandal," outlets from ESPN to USA Today asked Sandusky's victims if, while being forced to engage in oral and anal sex with a man 40 to 50 years their senior, their primary fear was for Paterno's reputation—and, specifically, for how revelations of their suffering might diminish his two national championships, three Big Ten titles, and 24 bowl victories.
"This is obviously a sensitive subject for you, and I understand how difficult and uncomfortable it must be to talk about the abrupt end of JoePa's career, but as a journalist, it's my responsibility to weed past the 40 counts of sexual misconduct over a 15-year period and the gross negligence on the part of school authorities and ask about what is really important here: Joe Paterno's football accomplishments," Steve Wieberg of USA Today said to one anonymous victim, who was 10 years old when Sandusky assaulted him and who now suffers from irreparable emotional and psychological damage. "He is the winningest Division I football coach of all time and a man whose very name is synonymous with excellence. As a Penn State fan yourself, this must be very tough for you."
"When you told your family how Coach Sandusky forced you to engage in illicit 'soap battles' with him in the shower, what were their thoughts on Joe Paterno?" he continued as the abuse victim stared silently back at him. "Was their immediate response worry and concern for how this might tarnish his six Fiesta Bowl wins?"
Given the delicate situation, sportswriters said they felt the need to tread lightly and initially only asked victims how they thought Paterno might be feeling during this difficult time. They then followed up with more substantial questions about being exploited and preyed upon by a sexual deviant, such as how the victims thought their being pinned against a wall while Sandusky assaulted them might hurt Penn State's 2012 recruiting class; how covering up a systematic pedophile victim-grooming pipeline, in the form of youth football camps, might damage the culture of winning Paterno worked so hard to establish; and whether they were worried about the mental state of the team heading into Saturday's game against Nebraska.
In addition, various representatives from CNN, The New York Times, and Sports Illustrated asked the victims—all of whom will reportedly have to undergo therapy for the rest of their lives—how they thought Paterno's wife, Sue, and their five children were holding up.
Sources later confirmed that one victim, who couldn't stop shaking his head while being questioned, began sobbing openly when asked if he would join the throngs of students who took to the streets to protest the head coach's ouster, and if he thought his molestation would overshadow Paterno's renowned ability to graduate his players.
"The victim I spoke to, who was 12 years old when Sandusky first took advantage of him, looked very upset throughout the entire interview," Sports Illustrated writer Stewart Mandel said. "And when I asked whether he was concerned not just for how Joe Paterno would be remembered, but also for the football program's ability to recover, he told me the interview was over and I should get out of his house."
"Can you blame him, though?" Mandel added. "A coaching legend's reputation hangs in the balance. I'm just as hurt and frustrated as he is."
Many members of the sports media said they found the victims equally uncooperative and generally disinterested in Paterno's Bear Bryant, Walter Camp, and Eddie Robinson Coach of the Year Awards. According to the journalists, shock and trauma were possible reasons for this response, and the victim's were more than likely speechless due to the thought of Paterno's storied career ending on such a sour note.
"I think right now they just need some time," said ESPN senior writer Ivan Maisel, who, in light of the allegations of misconduct at every level of Penn State's administration and the dozens of ruined lives that resulted, filed a column about Paterno's football legacy Wednesday. "I'm sure they'll be better when the dust settles and they realize just how impressive 409 victories really is."
At press time, the victims of years and years of psyche-destroying sexual abuse released a joint statement saying they were not concerned about Joe Paterno's legacy.