PAPILLION, NE—Four days after a disappointing final round at the Bridgestone Invitational, during which he gave up a three-shot lead to Tiger Woods, frazzled PGA Tour player Padraig Harrington has been unable to recover from the traumatic loss and is currently wandering aimlessly around a small Nebraska town, completely unaware of who he is or where he is supposed to be.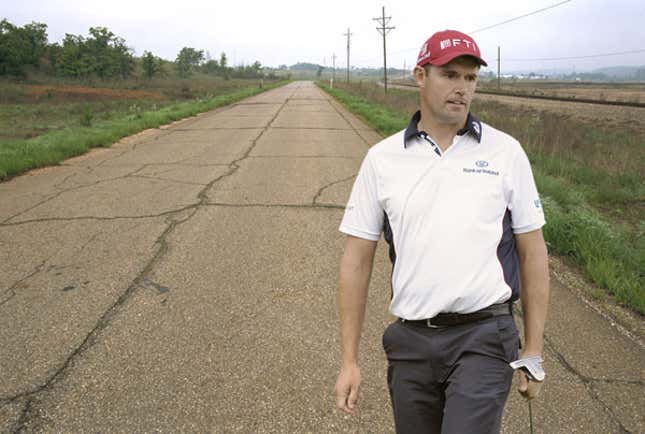 This Week's Most Viral News: September 22, 2023
"I…um…golf?" Harrington said when local police officers, who found the golfer outside a nearby rest stop, tried to explain to the three-time major champion why he was holding a putter. "All I had to do was…. All I had—Tiger Woods. Tiger fucking Woods."
"He's in my head," Harington continued through muffled sobs while massaging his right temple. "He's in there. Somebody get him out. I said get him out!"
Harrington, who was poised to win his first PGA Tour event of the year, had a one-shot lead over Woods entering the difficult 660-yard par-five 16th hole. But a slow-play warning, coupled with Woods' immaculate 8-iron third shot, apparently threw Harrington off his game, causing the Irishman to make an embarrassing triple-bogey eight.
Unable to put the misstep behind him, Harrington grew increasingly rattled, and had to be reminded several times to hit his drive on the following hole. Later in the match, last year's PGA Champion asked tournament officials if he could just skip putting altogether, and spent the majority of his time on the par-four 18th staring into a greenside bunker.
At one point, a severely disorientated Harrington asked an official to escort from the premises the "strange man with the golf bag who keeps following me."
After completing his round, Harrington reportedly wandered off the golf course and onto I-77, traveling all the way to the Akron Canton Airport, where he booked the first available departing flight.
"He just handed me his credit card and said, 'Anywhere—anywhere but here,'" US Airways employee Erin Matthews said. "When I gave him his card back, he threw it in the garbage can, along with his wallet, a bunch of golf tees, and his shirt. He said it was stiflingly hot in the airport, but we had the AC up all the way."
According to sources, the former British Open winner was last seen Wendesday at a Dick's Sporting Goods in Papillion, NE, gazing at a life-size cardboard cutout of a smiling Woods.
Eyewitnesses said they detected a small string of saliva dangling from Harrington's otherwise expressionless mouth just before he removed a driver from a display rack and destroyed the facsimile of Woods.
"He kept mumbling, 'I should have taken my time. I should have taken my time,' store manager Tom Shroyer told reporters, adding that Harrington was unable to recall his home address, telephone number, or place of birth. "Damn right he should have taken his time. Hell, even I could have made bogey from where he was behind the green."
A number of PGA players besides Harrington have crumbled recently under the pressure of being paired with the world's No. 1–ranked golfer. Anthony Kim gave up a two-shot lead to Woods at this year's AT&T; National and was found the following week working at a Baskin-Robbins in Charlotte, NC under the name Jim Smith. Golfer Sean O'Hair blames Woods' tournament-winning birdie at this year's Bay Hill Invitational for the recent crumbling of his marriage. And in 2000, the entire PGA Tour was put on 24-hour suicide watch after Woods won the U.S. Open by 15 shots.
"Get it together, Padraig," Harrington was overheard saying to nobody in particular at the police station. "Just get it together. You're gonna be fine, everything's fine, okay? Fine."
"Deep breaths. Nice deep breaths," Harrington continued. "Okay. I'm ready to play the 17th hole now."