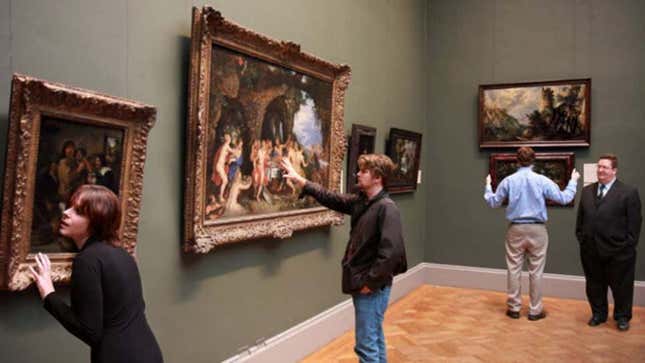 NEW YORK—Hoping to boost attendance and broaden its base of supporters, the Metropolitan Museum of Art launched a new initiative this week that allows patrons, for the first time ever, to prod and scratch at the classic paintings in its revered collection.

This Week's Most Viral News: September 29, 2023
"Though it contains more than two million pieces and represents a profound legacy of artistic achievement, most people remain completely indifferent to our museum," Met director Thomas P. Campbell said. "So we decided to try something a little different and give visitors a chance to experience our timeless works of art up close and personal."
Added Campbell, "Please, bring the whole family and smudge up our paintings as much as you want."
According to Campbell, attendance has increased tenfold since the new policy went into effect, with record turnouts causing 45-minute waits for those wishing to clumsily paw at the works of Vincent van Gogh.
"You can't grasp the brilliance of a great painting just by looking at it," said Phil Brehm, 32, who acknowledged that he hadn't set foot inside a museum since a mandatory field trip in high school. "To truly appreciate fine art, you need to be able to run your fingers over its surface and explore its range of textures."
"Or just rub your face all over it, like I do," Brehm added.
Gerard Schmidt, a retired banker who lives near the Met, said he had never much cared for museums until he was given the chance to manhandle one of Monet's Water Lilies.
"At first it just looked like a picture of a bunch of lily pads, but then I started scraping at it with my pocket knife and the whole painting just sort of spoke to me," Schmidt said. "For the first time, I finally understand what Monet was trying to get across in her work."
Art students also took advantage of the Met's relaxed rules, with many photocopying Cézanne canvasses or trying to gain insight into Rembrandt's techniques by tracing over Aristotle With A Bust Of Homer with soft pencils and charcoal.
Karen Cooper, a 41-year-old mother of four, said she enjoyed her first visit to the Met, but admitted it was exhausting to spend an entire afternoon touching paintings.
"This is good to know about, though" said Cooper, before applying another coating of moisturizing lotion to her hands and returning to palm more Vermeers. "Whenever I need some alone time, I can bring the kids here and send them off to go play with the Picassos for a while."
Museum officials confirmed that many new visitors have given donations to the museum to get special member benefits, such as being allowed to remove works of art from the walls and sit down with them while enjoying food or drinks in the café.
The new policy has been so popular that on Monday the Met began extending tactile privileges beyond its paintings. Patrons are now invited to climb inside ancient Egyptian sarcophagi, whether to take a souvenir photo or just carve a message into a 2,500-year-old sacred coffin. Museum-goers are also encouraged to try on the medieval suits of armor and participate in mock battles.
Commenting on the diversity of the museum's permanent collection, Met publicity director Sarita Bhakta said, "Where else can you recline in an original Mies chair, put your feet up on a Rodin, and play "The Devil Went Down To Georgia" on a 300-year-old Stradivarius?"
Some, however, remained unimpressed.
"I touched a crapload of Jasper Johns' paintings," said Mark Bennet, 67. "I just don't get why they're supposed to be so special. They feel like any regular old painting."
Still, the Met's success has inspired other institutions to follow suit. The Guggenheim Museum now allows customers to swing from its Calder mobiles, while the American Museum of Natural History has begun charging $2 to ride atop its famed brontosaurus skeleton.
And the cash-strapped Boston Symphony Orchestra has created a special "Jam Night" during which audience members can come up onstage to play along with the orchestra, improvise lyrics, or just twirl around waving colored scarves.
"Sometimes you have to go that extra mile to grab people's attention," said Campbell, the Met director. "Sometimes it takes more than curating exhibits that bring meaning and context to our complex cultural heritage, more than preserving works of art that capture the spirit of transcendence unique to humankind."
Continued Campbell: "Next year we're going to let people grab any masterpiece they like and just take a shit on it."