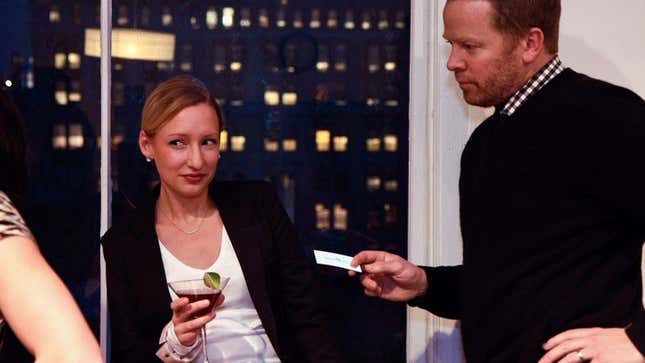 ATLANTA—A new study published Tuesday by Emory University determined that 89 percent of networking encounters occur forcibly and without the consent of one of the parties involved, a disturbing finding that suggests far more people are victims of unwanted career-related discussions than was previously thought.
This Week's Most Viral News: September 22, 2023
The study, which examined data from 1,400 abusive incidents in which individuals were compelled against their will to assist another's professional ambitions and "talk shop," also incorporated interviews with dozens who were violated by acts of nonconsensual networking, many of whom described similarly traumatic and dehumanizing experiences.
"The details vary, but in each case the victims described how ordinary chitchat rapidly escalated to terrifyingly detailed conversations about skill sets and career paths," said sociology professor Thomas Raybeck, the study's lead researcher. "Even though most of the respondents said they began to feel uneasy and sensed that something was wrong, it usually happened so quickly that by the time they fully comprehended the situation, it was too late to escape."
"What makes this so disturbing is that these attacks often take place in an isolated space," Raybeck added. "The assailant might force the victim into a remote corner of a dinner party, or follow him or her into the parking lot after yoga class. But these assaults have also been known to occur in full view of witnesses, who, more often than not, do nothing to stop it."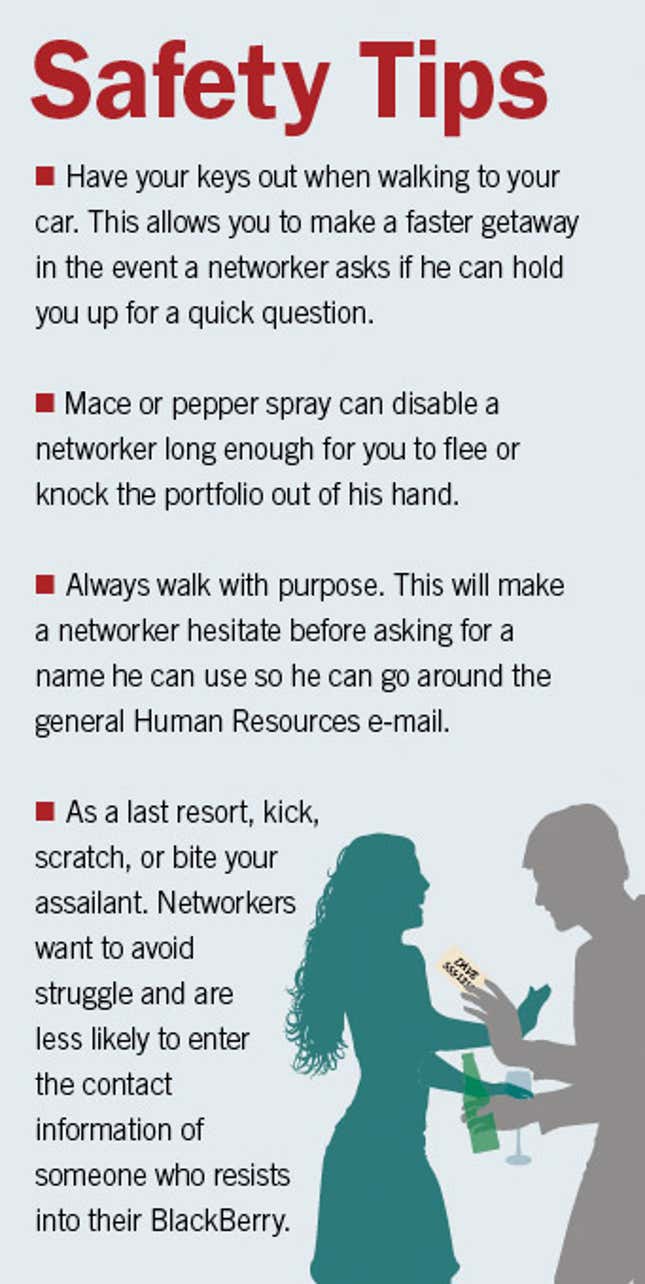 The study cited cases involving both strangers and acquaintances—from businessmen encountered at airport bars to fellow Little League parents. Researchers also cautioned that many victims will, out of fear or humiliation, refuse to admit that they had been forced to put someone in touch with the person in charge of hiring for the East Coast marketing division.
Sarah Ruiz, a pediatric nurse-practitioner at the University of Mississippi Medical Center, told reporters she first met her assailant at an after-work gathering at a local pub, an incident she said she can only describe now as "a blur."
"It all happened so fast," said Ruiz, her voice breaking. "We were just making small talk, when out of nowhere he pounced, asking me if the hospital was in the market for a new billing software vendor. I tried telling him I didn't know, I didn't know, but before I even realized what was happening, I had a business card in my hand."
"I can still smell the booze on his breath," Ruiz added.
According to Raybeck, it's not uncommon for people who have been brutally networked to blame themselves for what was done to them. They might, for example, believe that their business-casual attire provoked the networker or that standing alone in the corner of a cocktail party was somehow "asking for it."
"This is a silent menace," Raybeck said. "Victims often don't speak out about what happened because they think they brought that guy who wants to meet for coffee and pick their brain on themselves—but they absolutely didn't. And they shouldn't be ashamed to talk about it."
"It's not easy," Raybeck continued. "Networking victims often feel dirty, they feel humiliated. But it's not their fault. It's the fault of the animals who did this to them."
Some victims, however, said their reluctance to take such incidents public is because they feel that the person who assaulted them with conversation about master's degrees in business administration is still a threat. One marketing consultant, who did not want his name used, told reporters that the man he met waiting in line at the bank last week had since left him a chilling LinkedIn invitation with the message, "Love to reconnect and bounce some ideas off you."
"What can I do? I mean, he's out there," the man said. "He knows where I work."
Raybeck said he hopes his team's study will not only encourage more victims to come forward, but will also reassure others that the act of networking, when consensual, does not have to be a traumatic or shameful act.
"The truth is that networking, in itself, can really be a healthy, fulfilling, and beautiful thing," Raybeck told reporters later over drinks at the Haymaker Bar & Grill. "After all, nothing wrong with putting the old feelers out, especially in a tough market like this, you know what I'm saying? Hey, I'll get the next round, don't worry about it. By the way, who's doing HR for you guys now? Is it still Gary?"