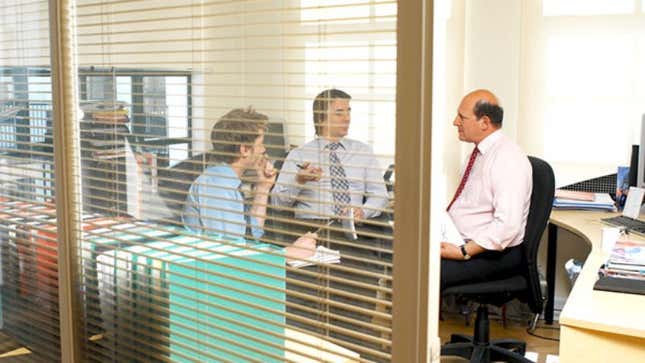 LOGAN, UT—According to an alarming new study published Monday in the American Journal Of Sociology, the vast majority of Americans are critically discussed after leaving a room occupied by two or more additional people.
This Week's Most Viral News: September 29, 2023
The groundbreaking research contradicts decades of previous inquiries into the area, including dozens of informal surveys in which respondents adamantly denied ever having talked behind others' backs.
"Our findings will come as a great shock to the millions of Americans who have assumed people do not speak derisively about them as soon as they are out of earshot," said Dr. Edward Phillips, a professor of sociology at Utah State University and lead author of the study. "This phenomenon affects nearly everyone. If you have ever feared that people whom you considered to be good friends were mercilessly mocking and insulting you shortly after you left their presence, your fears are almost certainly 100 percent correct."
"It seems that the only people immune to this are the 7 percent of the population simply too dull and boring to even make fun of," Phillips added.
Phillips' team used an innovative double-blind observation model to study this behavior, which was previously thought to exist only in theory. Researchers put together groups of volunteers with varying familiarity and observed with a closed-circuit camera their behavior when one member of the group—often a perfectly normal person who could hardly be considered a "dipshit" or "dumb ass" in open conversation—was called away by a researcher.
"If those remaining in the room knew the exiting participant, they quickly launched sophisticated and incisive attacks on that person's competence, intelligence, and character. In 63 percent of the trials, one or more volunteers performed exaggerated—though often accurate and extremely amusing—impressions of the person who had left," Phillips said. "Amazingly, even if the volunteers knew nothing about the exiting subject, they could still engage in lengthy derision of that person's weight, hairstyle, and clothing choices."
Continued Phillips, "As well as their breath, body odor, speech patterns, and the way they walked, not to mention general discussion based on the perception that the participant who had left the room was most likely a world-class prick."
According to Phillips, the most astonishing results occurred when one of the volunteers was in an intimate relationship with the exiting subject. Invariably in these cases, the conversation included not only criticism of the departing person's underwhelming sexual performance, anatomical inadequacies, narcissism, and sketchy dating history, but also the admission of a desire to sleep with his more successful older brother.
Researchers also observed several forms of nonverbal communication that often preceded any group-wide discussion of the subject leaving. According to the data, 89 percent of volunteers appeared to listen attentively to the subject's receding footsteps, 47 percent raised their eyebrows and smirked as the subject left, and 23 percent mouthed the words "what the fuck" to others in the room as the door was closing, which usually triggered bouts of stifled giggling.
"Perhaps most exciting was the 9 percent of volunteers who silently flipped the subject off as they left the room," Phillips said. "We predicted that this could occur, but it had never actually been observed in a controlled environment. Nor were there any known instances of it being performed in conjunction with the more common 'jerk-off' hand motion, but we were able to record the simultaneous occurrence of both on three separate occasions."
A number of experts in the fields of sociology and biology have suggested there is an evolutionary component to the uncontrollable urge to talk about an individual after he has left the immediate vicinity. Phillips said the lower-order cognitive functions responsible for knee-jerk gossiping may have played an ancient role in survival by encouraging those in proximity to band together.
"This phenomenon appears to be primal and almost entirely reflexive in most cases," Phillips said after pausing cautiously for a few seconds. "Most people do not appear to be aware that they're doing it at all. For example, my colleague Dr. [Louis] Killian, who has just left our shared office, is just the sort of low-IQ, grade-A cocksucker who would engage in these behaviors and not even fucking realize it."
"What an asshole," Phillips added.