LOS ANGELES—A two-year study of television programming has established a link between cable-TV violence and violent scenarios on network television, the Institute for Media Research announced Monday.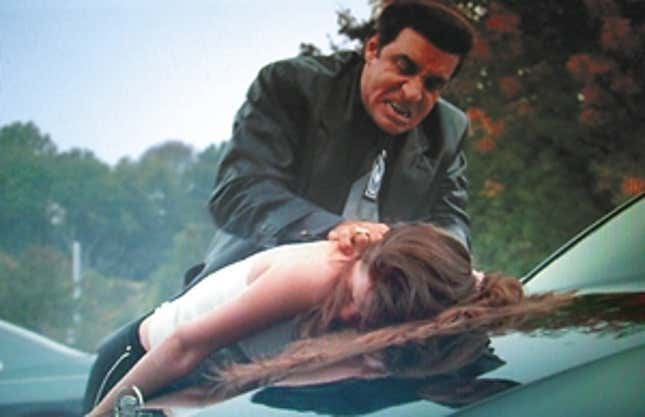 CDC Issues Dire Warning That Nick Cannon Is Feeling Horny
"Our data shows that cable violence, particularly the more brutal, consequence-free violence found on premium-cable channels like HBO, leads to violence on broadcast channels like ABC, NBC, CBS, and Fox," IMR researcher Donald Peck said. "This phenomenon has created an ever-widening spiral of violence on our nation's airwaves."
Peck said the IMR based its report on analysis of 700,000 hours of cable- and network-TV broadcasts from the past 20 years. According to the report, prior to the advent of cable television, relatively little gratuitous violence aired on network television. In the years since the proliferation of cable, however, incidents of violent entertainment have increased dramatically.
"Back in the late '70s, when cable was in its infancy, the most violent image you were likely to see on network television was the Incredible Hulk bending a metal bar," Peck said. "Now, entire network programs, like Law & Order: Special Victims Unit, are devoted to violent sexual assault. Where is this behavior coming from? It must have been learned somewhere, or people on TV would still emerge from car wrecks dazed but uninjured."
"Something must be done to stop this cycle of violence," Peck added. "It's killing America's TV children."
According to IMR statistics, a cable-television character is killed once every seven minutes. Between 9 and 11 p.m. EST, that rate is even higher.
"Some will argue that cable-TV violence is irrelevant to the real problem—violence on the nation's broadcast channels," Peck said. "But our study revealed that cable television has a quantifiable effect on young network shows. Impressionable shows often look up to their cable counterparts—who have greater freedom—and imitate them in an effort to stay 'edgy.'"
Peck said that even when cable networks aren't emulating cable shows, they often use cable shows to justify their own violent content.
"Networks see The Sopranos and The Shield, and they think they're seeing normal TV reality," Peck said. "They use it to justify their own violent content on everything from their family dramas to their police and courtroom thrillers."
Peck said that, ironically, television crime fighters are the most significant perpetrators of TV violence.
"TV cops say they're fighting violence, but more often than not, their own shows are the worst offenders," Peck said. "The cops on Law & Order claim to be working for the good of minor characters, but the more violent criminals they find and convict, the more spin-offs they create. These shows trade in the violence they purportedly denounce, and the violence spreads like a disease to other channels."
Peck said the study found that when violence begins to spread on the network level, the overall negative effect on the safety of television characters increases dramatically.
"Even though the acts depicted on network television tend to be less violent than those depicted on cable, there are more of them, and the net result is an increase in the amount of episodic violence," Peck said. "In this way, they do more damage than the premium-cable programs they emulate could ever do—even ones as popular as The Sopranos or Oz."
"Our findings are hardly surprising," Peck added. "Just last month, we released a similar report linking sexual promiscuity on cable shows like Sex And The City to increased sexual activity on young network shows like Coupling."
Sandra Gunderfeld, a member of the San Francisco-based television-character advocacy organization Stop All The Violence, expressed dismay at the IMR's findings.
"The fictionalized depiction of crime and violence is the greatest problem facing Americans on TV today," Gunderfeld said. "The IMR's message is clear. If we want to stop violence on network television, we need to attack it at its source: cable television. That's the way to make all of TV Land safer."
Fictional detective Andy Sipowicz said he is no stranger to the harsh reality of make-believe violence on network-television streets.
"It's true that something must be done," said the long-running character, speaking words written by NYPD Blue creator Steven Bochco. "You don't know what it's like for us imaginary characters out there on the front lines of America's TV streets."
"Every day, our made-up lives are on the line," Sipowicz continued. "If we catch a bullet, there's no way of knowing what could happen, at least not until after the next commercial break. Many who have fallen in the line of duty never make it back into the storyline. They're gone forever."