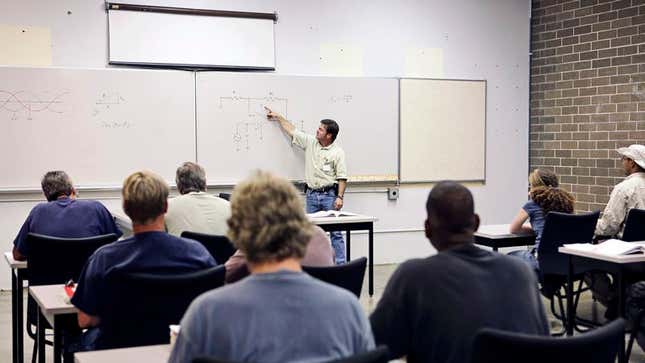 NEW YORK—According to a new study published Wednesday in The American Educational Research Journal, an overwhelming majority of recent college graduates are completely unprepared to carry the full weight of the U.S. economic recovery.
The study, conducted by researchers at Columbia University, confirmed that a drastically high number of 22- to 24-year-olds lack even the most fundamental skills necessary to singlehandedly spark unbridled economic growth across the entire country for generations to come.
"Our findings indicate that many college graduates do not receive an education that adequately prepares them for turning around years of economic malaise and fostering a bold new era of American prosperity," said Dr. Jason Fields, lead author of the report. "Even at elite colleges, most students leave school without a strong enough grasp on how to totally revitalize the manufacturing, housing, automotive, and health care industries of an entire country."
"Simply put, American academic institutions are failing to equip their students with the tools to swiftly erase trillions of dollars of national debt," Fields added. "In fact, most of them aren't even able to save the vanishing middle class."
Fields explained to reporters that in critical areas such as driving nationwide consumer spending, boosting the country's GDP, and returning the U.S. to the forefront of international trade, today's college graduates are floundering. Statistics show over 90 percent of American college graduates lack the skills required to create millions of jobs through a total restructuring of the nation's infrastructure and energy grid, 78 percent lack the technical knowledge to turn around struggling small businesses throughout the nation, and an alarming 97 percent are severely underprepared to dramatically improve the deteriorating standards of living for the middle and lower classes.
In addition, the study found that the vast majority of undergraduate college curricula contain little to no courses on subjects such as completely turning around a moribund financial system or paying off a seemingly insurmountable accumulation of debt to China.
"Many students emerge with their four-year college degrees unable to tackle even basic problems such as undoing the worst economic downturn since the Great Depression," said Fields, adding that those who graduated as far back as 2007 still struggle to inject billions of dollars into the federal government. "They literally have no idea how to implement sustainable models of widespread financial stability for millions of American families in a short amount of time, and that is unacceptable."
Fields stressed that the failure of recent college graduates to create a new wave of multi-billion-dollar companies capable of bolstering both the private and public sectors ultimately falls on educators.
"College professors have a responsibility to make sure their pupils are ready to immediately dig the entire United States out from the brink of financial ruin—a responsibility that they are, sadly, not taking seriously enough," Fields concluded. "Also, if they could figure out a way to teach recent college graduates how to reverse climate change too, that would be super helpful."