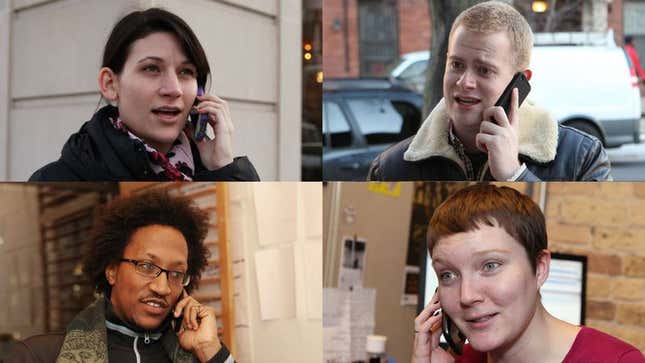 DURHAM, NC—In a groundbreaking study published this week in the Journal Of Social Psychology, scientists reported that members of the millennial generation typically spend the entirety of their waking lives seeking emotional support from their parents over the phone.
This Week's Most Viral News: September 22, 2023
Drawing on extensive field observation, the study found that the vast majority of the nation's 80 million millennials—Americans born between 1982 and 2000—insist on maintaining unbroken verbal contact with their mothers and fathers from the time they wake up until the time they go to bed, requiring as many as 18 hours of reassurance and validation via telephone each day.
"In contrast to previous generations, millennials are using technology to demand and receive a nearly endless stream of parental affirmations," said behavioral psychologist George Wright, the study's lead author. "Like helpless infants, members of this demographic group instinctively seek out the security of their parents the moment they encounter even the slightest hint of unhappiness, and in most cases cannot fall asleep without the soothing sound of their mother or father's voice flowing directly into their ears."
"Moreover, because they are incapable of doing anything at all by themselves, millennials need to ask their parents for advice on every single decision they make," Wright continued. "Remarkably, this even includes judgments as simple as when they should get their hair cut, what foods they should purchase at the supermarket, and how warmly they should dress for the day."
Wright confirmed that members of this age group all appeared to possess a deep-rooted belief that they were unique and special, which innately drove them to demand their parents' full attention at all times, even from thousands of miles away. As a result, millennials reportedly forced their mothers and fathers to field dozens of calls per day, both at home and at work, and listen patiently as they explained every aspect of their lives, seemingly under the impression that each minute detail of their existence was worthy of exposition and acknowledgment.
Unlike the preceding Generation X, whose members typically speak to their parents for 30 minutes every one to three weeks, millennials were found to spend an average 6.5 hours talking to one parent from morning to afternoon before asking that the phone be handed to the other parent, with whom they then remained in conversation well into the night.
Moreover, a survey of research participants found that 93 percent spent the entire day in a single uninterrupted conversation with one or both parents, which typically continued when the young adult ate, watched television, drove, attended classes, or went on social outings with friends or on dates.
"What's interesting is that instead of trying to deal with problems on their own, millennials prefer to vent to their parents in a ceaseless chain of grievances that lasts on average from 9 a.m. to 10 p.m. daily," said sociologist Rick Winter, noting that participants in the study failed even to attempt such outwardly simple tasks as writing checks or mailing packages by themselves, and only proved capable of performing such actions under explicit parental direction. "What we're seeing is a whole generation that has reached adulthood without having moved any closer to independence from the generation that raised it. It's astonishing."
According to Winter, when experiencing any form of anxiety, millennials were invariably observed seeking immediate assurance that their parents had felt similar insecurities at their age, and appeared to grow agitated and uncomfortable without a near constant stream of verbal confirmation that their parents were proud of them and the life choices they had made.
Additionally, participants who were unable to talk with their mothers or fathers via telephone for any longer than five minutes suffered evident mental anguish ranging from mild panic attacks to full-on nervous breakdowns, which they quickly sought to alleviate by contacting their parents via e-mail, text, or online chat services.
"I appreciate that my son cares enough to call home, but it's getting to be a bit tiring," said 48-year-old Carol Finn, estimating that she spends 95 hours a week on the phone with her son Keegan, a junior in college. "He called me three times today to ask what the permanent-press setting on the washing machine means and to tell me every last detail about some girl he talked to who works at the campus library. I don't know how much longer I can deal with this."
"Oh, jeez," added Finn, sighing and rolling her eyes as her cell phone began ringing.