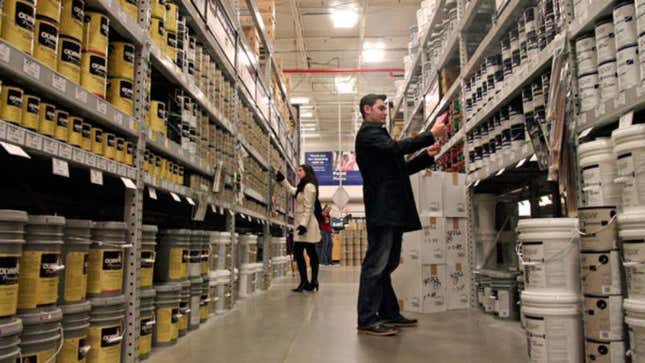 AUSTIN, TX—According to a study published Monday in the Journal Of Mental Health, the paint department inside a Lowe's Home Improvement Warehouse has surpassed the shelving section of Ikea as the location most conducive to having a total psychological breakdown.
This Week's Most Viral News: September 22, 2023
The study, which observed a cross-section of 750 average, mentally sound Americans as they shopped at a variety of retail outlets, found that the singularly chaotic qualities of a Lowe's paint aisle, combined with its overwhelming number of product choices, make it the ideal place to completely fall apart.
"Even the most well-adjusted individual can be reduced to a feeble, trembling shell of his or her former self after a half hour of paint shopping at Lowe's," said Dr. Olivia Kang, a behavioral psychologist at the University of Texas and lead author of the study. "The pressure to make a decision between two seemingly identical shades of beige, the glaring fluorescent lights, the frantic patrons on all sides—it's too much for the human psyche to process."
"In terms of causing normal, healthy adults to completely lose their shit, the Lowe's paint department amounts to a perfect storm," Kang added.
Seventy-seven percent of those observed in the study crumbled within 23 minutes of browsing the aisle, with the length and severity of symptoms increasing greatly among participants who inadvertently wandered into the lighting fixture department while trying to make a paint choice.
Many were later found in a disoriented, fugue-like state, clutching dozens of color samples in their sweat-soaked hands and mumbling incoherently about satin and eggshell sheens.
"The effects of the external stimuli are often exacerbated by internal pressures, such as fear of an altercation with one's significant other stemming from an incorrect choice," Kang said. "This typically leads to a broader questioning of both one's worth as a human being and the purpose of life."
According to the study, these feelings of inadequacy cause many to break down as they become convinced they haven't the slightest idea what the hell they're doing.
Other shopping environments, including the bedding department of Kmart, the changing rooms at Macy's, and Target, have been known to trigger complete emotional collapse. However, researchers found that the paint aisle at Lowe's is unique in the way it causes shoppers to abuse themselves for being so weak-willed and stupid, which is why they bought the goddamned house in the first place, even though it cost too much, and also why they settled down with someone they're not even sure they actually love, just because all their friends started getting married.
"[The Lowe's paint aisle] essentially becomes a giant mirror that reflects a crippling image of one's most profound failures as a human being," Kang said. "The place is a fucking nightmare."
According to evolutionary psychologist Peter Nowitsky, the undue stress caused in modern retail situations triggers the severe nervous condition as a self-preservation mechanism. This response is intended to minimize traumatic damage by prompting individuals to extricate themselves from the situation as quickly as possible.
"These horrible, unnatural places are little more than giant Skinner boxes designed to tear people down to their basest selves," Nowitsky said. "In a very short period of time, everything you thought you knew about yourself as a person has been destroyed, and you end up buying the first thing you can lay your hands on just so you can be done with it and go home."
"That's how this office ended up this god-awful salmon color," Nowitsky added.