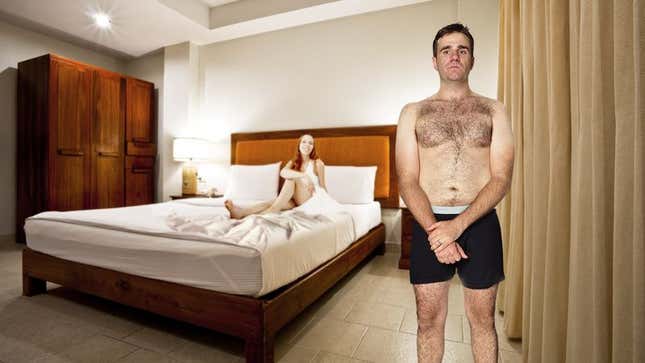 PHILADELPHIA—According to a study published this week in the American Journal Of Obstetrics And Gynecology, an increasing number of men are choosing to be physically present while conceiving a child with their wives or partners.
Body Language Fact: Did You Know?
"What we're seeing is a much greater openness by men to play an active role on the day of conception," said Dr. Renee Price of the University of Pennsylvania, who co-authored the study. "They feel it's important to show their support during that special time when their sperm is released to fertilize the egg, and they want to be right by the woman's side every step of the way."
"Fifty years ago it was considered the norm that the husband wasn't involved, but now the act of creating a new life is something many expectant fathers want to be a part of," Price added.
According to the study, more and more men now express a desire to participate in the insemination process, seeing conception as a bonding moment that they can experience together with their wives instead of alone in another room. Additionally, the research documented a trend in recent decades toward conceiving at home, where couples are often more comfortable and can choose to have the process occur in a bathtub or other nontraditional setting.
"I have to say it was pretty intense; I felt a little uncomfortable with all the moaning, but once it really started happening it was one of the greatest moments of my life," said Ken Olafson, recalling that he was so overwhelmed with emotion after the act of conception that he could barely speak. "I actually felt a little helpless, with her doing all the work and me just sitting there. But in the moment, I must say it was incredibly beautiful."
"We have a video of the whole thing, too," Olafson added. "It's nice that we can go back and watch it again."
The data, however, revealed that not all men are opting to be around for the act of conceiving a child. A minority of those surveyed said they were put off by the visually graphic nature of conception, preferring not to witness the sight of their partners frantically writhing around in bed.
"A lot of people say it's magical, but I actually found it to be pretty awkward for the most part," first-time father Pete Karam said. "My girlfriend was clearly uncomfortable, but everything I tried to do for her didn't seem to be working. For someone who'd never done anything like this before, she was a real trooper, though. I know there were parts she didn't enjoy, but once it was over she seemed relieved."
"I agree that it's something every man should experience at least once," he continued. "But I don't think we'll be doing it again anytime soon."
While many women initially expressed hesitation about their partners taking on a more active role in their child's conception, most confirmed that they appreciated the emotional support, comfort, and words of encouragement throughout the process.
"I'm glad he was in there," said Houston resident Kelly Mitchell. "Overall, it took a lot longer than I would have wanted and he didn't really know what to do, but having him around was really special. I couldn't have done it without him."