OCONOMOWOC, WI—Substitute teacher Pamela Krafft totally freaked during third period, freshman-class sources at August Derleth Memorial High School reported at lunch Tuesday.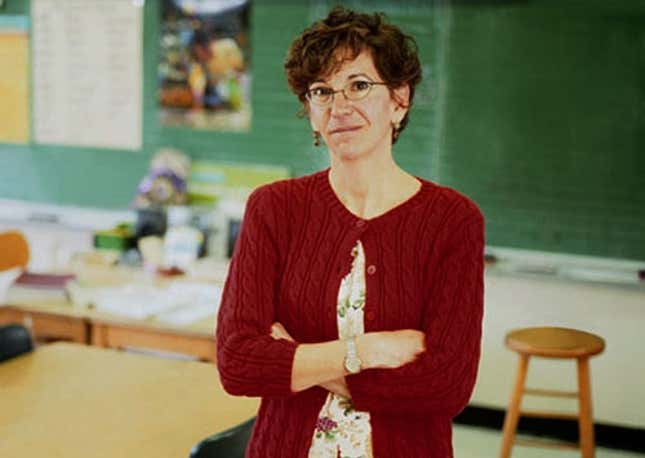 This Week's Most Viral News: September 29, 2023
"Mrs. Krafft totally lost her shit during social studies," said Darin Thompson, one of the 30 students who witnessed Krafft's meltdown. "Some of the guys in the back of the room were giving her a hard time, and suddenly, she just blew it. It was like someone ripped off her human face to reveal some kind of rampaging beast underneath."
Although accounts of Krafft's phenomenal breakdown vary, due perhaps to the highly charged emotional atmosphere of the event, some facts have been established. It is known that Krafft, who has a reputation for her non-confrontational approach to substitute teaching, showed signs of stress 20 minutes into third period. After several of her requests for quiet were ignored, Krafft reportedly took a harder line.
"[Krafft] said, 'Cut out the misbehavior and smart remarks, or else,'" Thompson said. "She never talks like that. Her face was all red, too, and her voice was shaky."
Rather than heed Krafft's warning, the unruly students continued to laugh, throw things, and issue unnecessary restroom-trip requests.
It was during the 38th minute of the 50-minute class that Krafft allegedly lost it altogether.
"It sounded like all hell broke loose in there," said math teacher Hank Sanders, who was conducting a sophomore Algebra 2 class in the neighboring classroom. "I don't know what happened, but I can assure you that it wasn't pretty."
Members of the social-studies class were able to give a more thorough account.
"She started looking for something on the desk—maybe the lesson-plan book, or a pen to write people's names down—but she accidentally knocked her coffee on stuff, and some kids started laughing, and then she just freaked," Thompson said. "First, she slammed her palm down on the desk, then she kicked a metal wastebasket, and then she knocked this pile of books off Grace Wendemeyer's desk."
Sources said that, after picking up two erasers that had fallen off the chalk ledge and clapping them together in a bizarre show of anger, Krafft stormed out of the room, vowing never to return. Roughly one minute later, she returned, attempted to resume class, and instructed students to open their books. In the process of putting on her glasses, however, she accidentally poked herself in the eye, at which point the uncharacteristic display of hysteria resumed.
Students and teachers in neighboring rooms remained glued to their seats, paralyzed with fear and confusion, as Krafft issued near-random disciplinary actions against the students, hurling pink detention slips and parent-teacher-conference request forms with undisguised contempt, screaming obscenities all the while.
"I heard the sub scream, 'Go to hell,'" said senior Kyle Riggs, who overheard the commotion from the classroom across the hall. "Then there was some banging, and she said, 'I don't get paid enough to take this shit,' and then something about a babysitter."
Approximately eight minutes after the conniption fit began, it was over. Krafft reportedly fumbled with the locking file cabinet beside her desk, pulled out her purse, and disappeared down the hall. Administrative sources said Krafft passed through the front office into the parking lot, where she got into her 1996 Geo Metro, slammed the door, and tore off down Walnut Street.
Krafft has not returned to the school since the incident.
"None of us had any idea that Mrs. Krafft was capable of such brute rage," Thompson said. "We thought she was a pushover, and that we could get away with hassling her. And we did, for weeks. But we have now reaped the bitter harvest that underestimating Mrs. Krafft sowed."
Principal Bob Colmes said that although no black mark will be placed on Krafft's record, she "isn't likely to be asked to return to Derleth High any time in the immediate future." Colmes said regular social-studies teacher Jack Hargrove, who's out sick with pneumonia, will return next Monday. In the meantime, Hargrove's class will be taught by Colmes.
"Man, those freshmen really screwed up this time," senior Kyle Ewan told reporters. "Colmes is a real hardass. It's going to be as bad as the time those juniors made the music teacher cry. You can bet he's going to let them have it, and good, for messing with that sub."