BURKE, VA—Speechless for several seconds after she descended the stairs for breakfast Sunday, the family of local mother Jolene DiPietro were reportedly "floored" by the 49-year-old's latest look, a gender-neutral mix of loose-fitting clothes and low-maintenance grooming that muted any and all outward feminine characteristics.
"Wow, I thought she looked completely genderless before, but now she's really taken it to a whole new level," said DiPietro's daughter Katie, praising her mother's style combination of formless brown fleece pullover, button-down blue-and-white-checked shirt, and relaxed-fit khakis. "I can't get over how her short-cropped hair spikes up in front, and how what little makeup she wears only serves to de-emphasize any discernibly feminine facial features."
"Who is this androgynous being, and what has it done with my mom?" she added. "Terrific stuff."
In addition to her clothes, which effusive family members said were "the blandest arrangement of earth tones they'd ever seen," DiPietro's new indeterminate-gender look was accessorized with a black unisex watch and a cavernous hunter-green all-purpose day bag that is said to enhance the boxiness of her already distinctly squarish body type.
As she walked around the kitchen, sources confirmed, all eyes were fixated on her footwear, a pair of comfortable-looking gray New Balance sneakers that "just scream either woman or man."
G/O Media may get a commission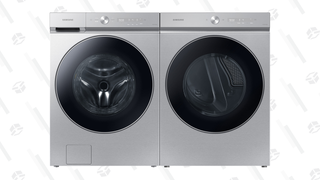 Get $500 back in credit
Last Chance: Samsung Bespoke AI Washer and Dryer Preorder
Family members were also wowed by DiPietro's decision to complement her outfit with a beige knit scarf and a clip-on pedometer, both "bold style choices" that they said really perfected the wife and mother's new "sexless suburbanite" look.
"Yep, that's the human being I married," boasted DiPietro's husband, Paul. "Those roomy chinos really show off how her legs are a functional part of her body necessary for locomotion. And those white tube socks sure do hug her unnoticeable curves."
"After 19 years together, I gotta say, this is the most ungendered I've ever seen her looking," he continued. "I'm so impressed."
According to sources, while DiPietro had long been quite the asexual specimen—she reportedly bobbed her hair when she turned 40, and five years ago stopped wearing blouses and skirts completely—in the past she always retained a sliver of gender identification, at least wearing hoop earrings or perhaps a charm bracelet.
But now, in the absence of any sort of jewelry, noticeable makeup, feminine hairstyle, or even a single piece of brightly colored clothing that might hint at her gender, DiPietro's family all agreed that her current look was by far the capper.
"Of course, we all know there's a woman somewhere under all those baggy, billowing clothes," said Katie, underscoring how impressed she was that her mother had managed to transform herself into such an androgynous fashionista. "But if I didn't know her, it would take me a while to guess what kind of genitals she had."
"Or, for that matter, whether she had any genitals at all," she added.
After breakfast, DiPietro reportedly left to go power-walking with a similar-looking group of amorphous, middle-aged humans.