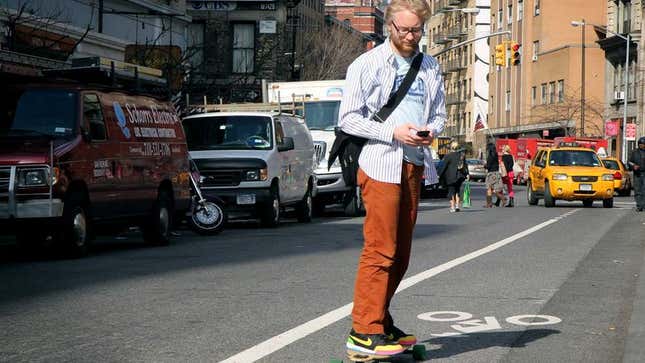 NEW YORK—A series of horrific, devastatingly injurious events failed to befall 33-year-old Flavorpill.com digital media developer Jake Reston as he confidently skated to work on his longboard, shocked witnesses reported today.
This Week's Most Viral News: June 2, 2023
Hundreds of aghast Manhattan commuters who watched Reston not hit a pothole with his idiotic oversized skateboard or fly uncontrollably through the air and smash his stupid fucking face right into the pavement said they were compelled to look away when Reston's foppish, military-inspired canvas shoulder bag didn't become snagged on the side-view mirror of a passing taxi cab and cause him to be dragged screaming down the street.
"My God, it was one of the most awful things I've ever seen," said retail associate Laura Forester, 29, who was exiting the subway when Reston passed right in front of her and managed not to, at the very least, lose control of his longboard and fall in a big pile of dog shit. "He made it all the way to the door of his obnoxiously ultramodern office building without a scratch on him."
"All I could think about was his poor parents," Forester added.
Doctors on the scene further dashed bystanders' hopes, saying there was nothing they could do and that Reston was likely to live out a long, comfortable life and continue to date a series of incongruously beautiful women.
Many New Yorkers said they felt helpless and frozen in place while witnessing the terrible sequence of events that did not happen to Reston, especially when the floppy-haired fuckface violated a red traffic signal without being immediately broadsided by a garbage truck and sent flying through the display window of one of the annoying, overpriced stores where he buys his slim-fitting oxford button-downs and preciously clever graphic tees.
Others admitted they felt guilty for not having done more, like stepping out into the street and punching Reston square in the goddamn mouth.
"Seeing something like this, it makes you question the existence of God," said passerby David Erickson, still dumbfounded by the fact that Reston had remained upright during his entire longboard commute rather than ending up a crumpled, bloody pile on the sidewalk, with the iPad he no doubt had somewhere on his person smashed to pieces beside him. "I mean, I don't expect something crazy to happen, like a big chunk of building coming loose and flattening him from above, but nothing? Nothing at all?"
"There's just no way to make sense of this," continued Erickson, sadly shaking his head.
Erickson added that he lost all faith when Reston glided by the mirrored glass facade of an apartment building, and, despite getting a good look at himself, did not become overwhelmed by what a smug little turd he was and immediately throw himself into traffic.
Some, however, remained stoic about the succession of physically crippling incidents that did not befall the digital media professional, even after Reston also failed to collide at high speed with a passing candy-apple red Vespa scooter driven by equally insufferable UrbanDaddy.com senior culture editor James Leary, 36.
"I think it's important to remember that tomorrow's another day, and we just have to keep looking ahead," 78-year-old local retiree Arnold Stephens said before walking into a nearby hardware store and purchasing hundreds of ball bearings.