NEWTON, MA—According to sullen teenager Steve Geremek, the 23rd century, a time previously restricted to the fantastical imaginings of science-fiction writers and futurists, "sucks."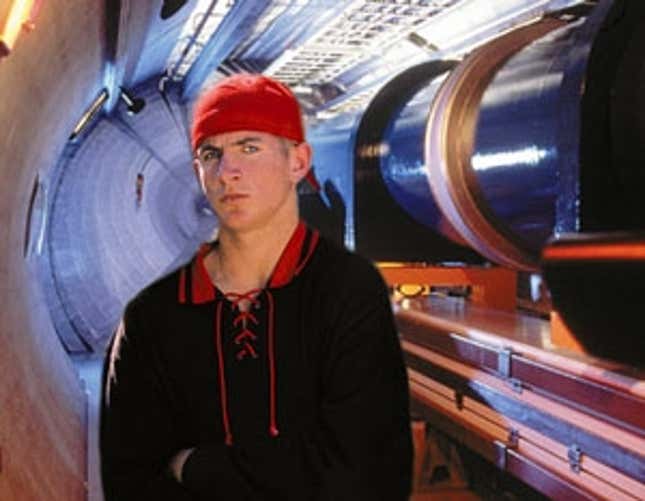 CDC Issues Dire Warning That Nick Cannon Is Feeling Horny
"Ah, it was a bunch of boring stuff," said a slouching, mumbling Geremek, 17, at a press conference shortly after his return from the future Monday. "It totally blew."
Geremek, the son of renowned MIT theoretical physicist Irwin Geremek, was transported to the year 2202 last Thursday when he accidentally wandered into an experimental tachyon particle accelerator being developed by his father.
"I was messing around in my dad's thingy and, all of a sudden, there was this flash of purple light," Geremek said. "Next thing I knew, I was surrounded by a bunch of boring future stuff."
Asked to clarify what he meant by "boring future stuff," Geremek said, "I dunno… stuff."
Geremek was similarly vague when queried about 23rd-century fuel sources, organization of communities, and prevalent modes of transportation.
"I dunno, people still walked around and did crap, same as today," said Geremek, staring at the floor and fidgeting with his hands. "It's not like that nuclear-winter thing came true."
Geremek's ambiguous answers drove at least one scientist to exasperation.
"What did he mean, 'It's not like that nuclear-winter thing came true'?" University of Chicago physicist Dr. Erno Schuller asked. "Did a nuclear war occur at some point but no nuclear winter resulted? Or did he mean a nuclear war didn't occur and, therefore, people were relieved there was no nuclear winter and went about their lives the same as always? Christ."
Geremek was somewhat more forthcoming when asked about food and popular culture.
"They still had pizza, which was cool," Geremek said. "But kids were into splicing their DNA with beetles, so they get, like, these temporary mandibles shooting out of their foreheads. It sounds like it would be pretty cool, but it actually looked kinda gay."
Geremek's father, who had not planned to test the time-travel device until sometime early next year, was eager to speak to his son upon his return.
"You stupid idiot," the elder Geremek said. "Thirteen years it took us to perfect those coordinate calculations, and another seven to build the thing. Not to mention the months of endless wrangling to get our project funded. Now we have to start over because you didn't give the thing proper time to reach its core temperature, damaging the acceleration mechanism. I told you to wait in the car while I got some papers. What the hell were you doing in there in the first place?"
The physicist then grounded his son, who responded by calling his father a Nazi.
Experts remain uncertain how to interpret Steve Geremek's tantalizingly cryptic account of 23rd-century life.
"We're not sure if, in describing the 23rd century as 'boring,' Steve meant that civilization is destroyed and man lives in a sort of grinding, post-apocalyptic world of hand-to-mouth barbarism, or that civilization exists as a totalitarian system in which the individual is a faceless cog in a drab, oppressive bureaucratic machine," author and futurist Alvin Toffler said. "Perhaps he meant something else altogether. We will likely not know the answer until Steve is well out of his teens or has some sense knocked into him."