TAMPA BAY, FL—In what started as a midfield photo opportunity between opposing team captains and ended as a hard-fought 60-minute competition to become the NFL champion, Super Bowl XLIII was suddenly and unexpectedly played Tuesday during media day at Tampa Bay's Raymond Jones Stadium.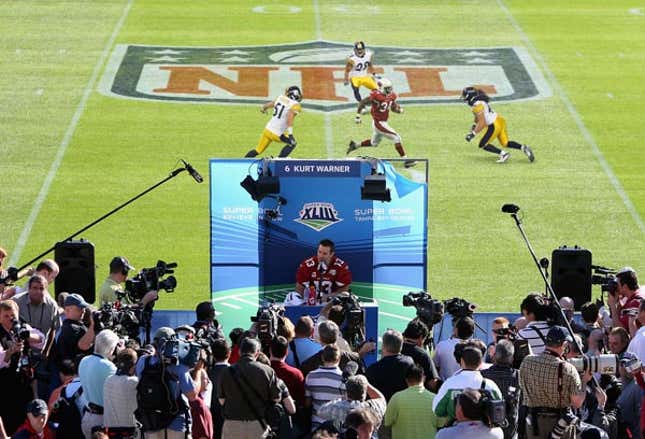 Newly crowned world champion Arizona emerged victorious over the Steelers 24-21 in a tough impromptu defensive battle.
"Did we just win the Super Bowl?" asked an exhilarated and somewhat confused Kurt Warner, who played only three quarters after spending the game's first 15 minutes answering Deion Sanders' questions about his spiky hair. "And, if so, am I going to Disneyland?"
Super Bowl XLIII was originally scheduled to take place on Super Bowl Sunday, Feb. 1.
"I think we just figured, 'Hey, the Cardinals are here, we're here, that weird guy from the Japanese media brought a football for some reason, so why not play the Super Bowl?'" Steelers running back Willie Parker said. "Believe me, both teams just wanted to get it over with, anyway."
"If it was up to me we would have played it last Sunday," added Parker, who never quite found his rhythm in what ended up being the most important game of the season.
According to sources, the game's impetus was reportedly a coincidental midfield meeting between team captains. Hines Ward and Karlos Dansby later confirmed, however, that at no point during the initial encounter did they have any intention of playing the Super Bowl.
After exchanging pleasantries, Steelers inside linebacker James Farrior removed a coin from his pocket and asked Arizona's Reggie Wells to call heads or tails—a move Farrior identified in the postgame conference as nothing more than a joke. However, NFL-appointed lead official Terry McAulay, who had dressed for the day in full referee attire for reasons that still remain unclear, rushed out to the 50-yard line to conduct the toss.
Steelers return man Santonio Holmes, noticing through the viewfinder of his personal camcorder that Cardinals kicker Neil Rackers was setting the ball up on a tee, sprinted to his own five yard line, shouting, "Hey, everybody, I think we're starting the Super Bowl."
"If Santonio is going to receive, we're going to block—it's just that simple," said Pittsburgh's Patrick Bailey, explaining why the Steelers special teams unit decided to rush the field. "I just said to myself, 'Come on. It's about fucking time we started this game.'"
After Holmes was tackled at his own 33 by a hard-hitting Aaron Francisco, Super Bowl XLIII was under way. Steelers quarterback Ben Roethlisberger took the field with his entire offense, head coach Mike Tomlin appeared already wearing his Motorola headset, and offensive coordinator Bruce Arians sprinted up to the press box in an effort to beat the play clock, which alert timekeepers had already started.
"I thought we might quit after the first quarter, but it ended in a 7-7 tie, so we figured we would just keep playing," winning Super Bowl coach Ken Whisenhunt said. "Also, we would get the ball to begin the second half, so continuing play was certainly to our advantage."
Other highlights from Super Bowl XLIII included a pregame flyover by US Airways flight 743 bound for Charlotte; the jubilant Cardinals hoisting up the first thing they could lay their hands on, sportscaster Bob Costas, instead of the Lombardi Trophy; and, because Bruce Springsteen was late for a 3:30 p.m. sound check, a halftime show consisting of various Max Weinberg drumbeats from "Born to Run," "Glory Days," and "Born in the USA."
No fans were in attendance to hold up the pieces of paper that would have formed two giant American flags in the east and west sections of the stadium.
"The game is never as good as people want it to be, anyway," Roethlisberger said. "So maybe it was better that it was played without all the TV cameras and everything."
Though league officials have yet to release a statement confirming whether another game will be played this Sunday, the NFL rulebook clearly states that a contest played between two Super Bowl teams constitutes a Super Bowl.
"No excuses," Pittsburgh coach Mike Tomlin said. "Sure, we didn't have pads until the second half, we were undermanned because some players had already gone back to the hotel, and Hines didn't have his knee taped properly, which probably led to his career-ending ACL injury. But we all played under the same conditions. Next time we'll just make sure we show up at media day ready to play."
"Damn it," Tomlin added. "It's just now hitting me that we lost the Super Bowl."