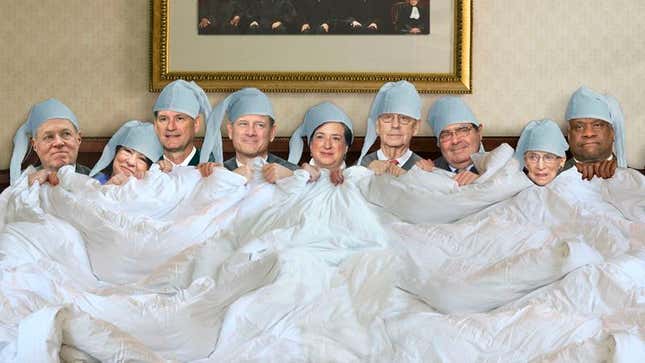 WASHINGTON—As night settled over the nation's capital Wednesday and a bright, full moon hung amid the twinkling stars and cast long shadows over the National Mall, all nine Supreme Court justices could be overheard drowsily bidding one another good night before drifting off to sleep in their giant shared bed.
With the approach of their 9:30 p.m. bedtime, the justices, tired from a long, hard day of judicial proceedings, drank big glasses of warm milk, put on their matching black single-piece pajamas and floppy nightcaps, crawled into their big, comfy bed, and prepared to get a good night's rest.
"Good night, John! Good night, Ruth! Good night, Samuel!" a very sleepy Justice Antonin Scalia said as he let out a big yawn and curled up between Justices Stephen Breyer and Elena Kagan. "You too, Sonia! Sleep tight, everyone."
"Don't let the bed bugs bite!" added Scalia, before drawing in a breath to blow out the big candle sitting on the nightstand.

With a blindfolded Lady Justice night-light dimly illuminating the room and 18 slippers lined up at the foot of the bed, the Supreme Court's bailiff kissed each of the nine jurists on the forehead and peered back at them while leaving the door slightly cracked in case Justice Anthony Kennedy had another bad dream.
G/O Media may get a commission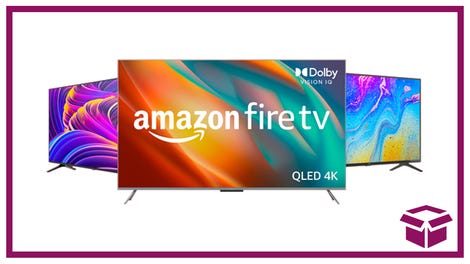 Ooh. stunning.
New Amazon Fire TVs
According to sources, most of the group was asleep by 10 p.m., including Chief Justice Roberts, who, seconds after finishing his prayers, had reportedly hit his pillow and conked right out.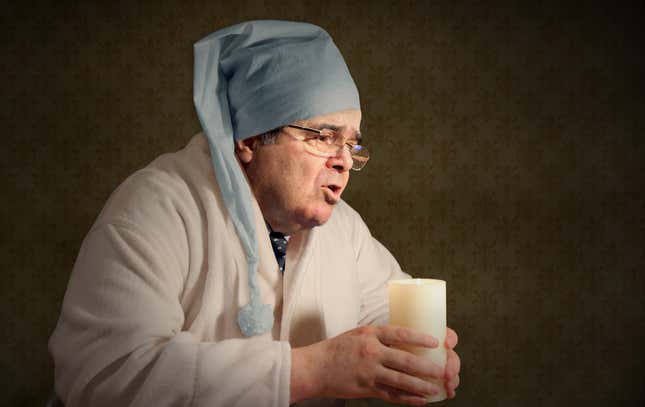 "I can't sleep. I'm still hungry!" said Justice Samuel Alito, popping up from between his dozing peers. "Psst…are you still awake, Anthony? Will you read me the court's unanimous opinion from Marbury v. Madison to help me fall asleep?"
"Again?" Justice Ruth Bader Ginsburg asked from the other side of the bed, speaking in hushed tones so as not to wake Justice Sonia Sotomayor. "You've had someone read that one to you every night this week, already! You better go to bed or you'll be all tired tomorrow."
When the court clerks came to check in on the justices later that night, it was confirmed that all members lay peacefully in the bed clutching their gavels, with nary a peep to be heard apart from Justice Clarence Thomas occasionally calling, between gentle snores, for Roe v. Wade to be struck down.
At one point during the night, Justice Breyer was seen shivering at the edge of the bed, but when a clerk covered him up with the large scales-of-justice-patterned quilt that had slipped from the 73-year-old's goose-pimpled body, he was soon whisked back to dreamland.
"They're such angels when they're sleeping," said Supreme Court fellow David Fitzsimmons, gazing in through the doorway as the nine justices gently slumbered away. "Just so peaceful and sweet, the dears."
Added Fitzsimmons, "Quiet, now, you don't want to wake them!"
According to sources, as the bright morning sun rose over Washington, the justices woke up, stretched, rubbed their eyes, and rendered a politically charged and highly controversial 5-4 ruling on an affirmative action case.