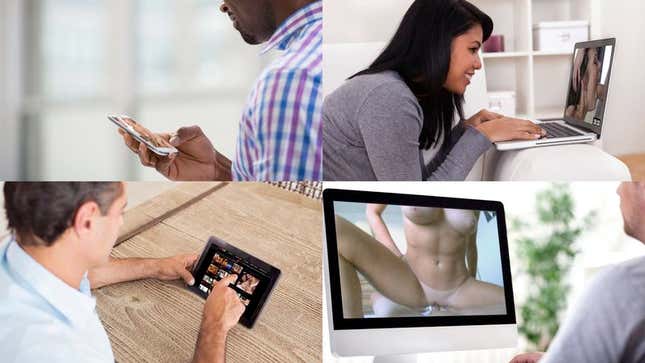 LOS ANGELES—Reflecting a significant shift in societal attitudes and behaviors, a survey completed this week by researchers at the University of Southern California revealed that American adults are watching far better sex than ever before.
This Week's Most Viral News: June 2, 2023
The initial findings, which sociologists gathered from thousands of telephone and in-person interviews as well as field observations, confirmed that the sex that U.S. citizens now see on screen is considerably more adventurous, passionate, and satisfying than any they have previously experienced.
"Based on our data, the American people are now regularly viewing the highest quality sex of their lives, which is characterized by stronger connections with those on screen and longer, more fulfilling climaxes," said lead researcher Patricia Oberlin, adding that the vast majority of those surveyed claimed they have watched "mind-blowing" or "earth-shattering" sex within the past five days. "Every demographic that we queried—individuals and couples, young and old, males and females, gay and straight—they're all engaging in rich and rewarding sex-watching lives, with many respondents reporting that they never imagined they would ever see such thrilling sex."
"We found that Americans now routinely take part in watching wild, energetic sexual intercourse, which often lasts for greater lengths of time," Oberlin continued. "And the frequency of sex viewing in the U.S. has increased as well, with many people saying they watch sex every day of the week and occasionally two times per night. All in all, Americans' sex-viewing lives are incredibly active."
Sociologists attributed the improved quality of copulation that Americans are watching to an increased level of attention paid to their particular desires during sex-viewing. This heightened level of comfort and empowerment while watching sex, according to researchers, has allowed the general public to shed their inhibitions and view a wider variety of erotic acts, with many Americans reportedly experimenting with different or unfamiliar positions, toys, age groups, and ethnic and racial backgrounds to keep their viewing lives fresh and interesting.
"Earlier in their lives, people might have only been exposed to an old-fashioned sexual viewing experience where the sex was fairly routine and the emphasis was entirely on pleasuring the male, but our data shows that this isn't always the case anymore," Oberlin said. "In fact, we found that a large number of Americans even prefer to watch sex that focuses solely on female pleasure and doesn't involve men at all."
Researchers confirmed that since the last time the survey was conducted, in 1989, there has been a large increase in watching forms of sex that were previously considered taboo, citing examples such as oral sex performed to the point of asphyxiation, fisting, and erotic lactation.
While the study determined that vaginal intercourse is still by far the most commonly viewed sexual act in the U.S., more Americans, including a large percentage of women, indicated they are now open to watching fellatio, cunnilingus, anal penetration, and dominance and submission.
"I used to only watch the missionary position, which was kind of boring, but now, I've been getting into watching sensual massages and role-playing stuff with cheerleader costumes," said Patrick Sanders, 38, a Phoenix-area husband and father of two. "The truth is I used to have a lot of hang-ups and I couldn't even fathom watching a threesome with two men and one woman. In fact, the thought of seeing another guy's penis during sex-viewing was just gross. But it turns out I was missing out on watching some really hot sex."
"At this point, I'm completely fine seeing someone ejaculate on pretty much any body part—in fact, that's something I discovered I actually enjoy viewing," added Sanders. "I'm even thinking of exploring watching bondage. That's something I never could have viewed years ago."
Researchers also found that Americans are spicing up their sex-watching lives by viewing intercourse in different settings such as bedrooms, kitchens, bathrooms, offices, classrooms, parks, college dorms, public spaces, and even moving vehicles.
In addition, many of those surveyed said they are watching sex more spontaneously or viewing it at unusual times of day, which they said increased their arousal.
"Sometimes, I'll watch sex first thing in the morning before I roll out of bed and get ready for work, and it's fantastic," said Mitch Watson, adding that he has never felt more alive. "I thought I was watching pretty good sex in my 20s, but this is a whole new level. I know what I want to watch now, and it's a little more unrestrained and kinky."
"Last week, my wife and I booked a hotel for a couple nights and spent the entire time in the room," continued Watson. "We just ordered room service and watched great sex all weekend."