BOSTON—Swift Boat Veterans For Truth, a group that gained national prominence in the months before the 2004 election, announced Monday that it will continue its campaign "to set the record straight about John Kerry."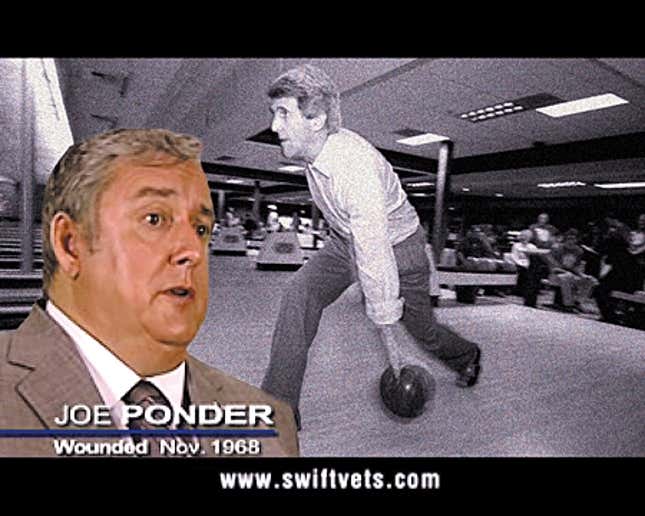 This Week's Most Viral News: September 22, 2023
"We've made great progress in spreading the truth about John Kerry's treasonous past, but our job isn't over just because he lost the presidency," said John O'Neill, founding member of the Swift Vets and author of Unfit For The Community, a new book arguing that Kerry's Vietnam service record indicates that he would make a dangerous neighbor. "John Kerry is a threat to every American he comes in contact with, whether he's running for president, getting his oil changed, or going to a movie with his wife."
Although many expected the Swift Vets' campaign to end when Bush was re-elected, a spokesman for the group said its efforts have only begun.
"Just because that lying, cheating, opportunistic fraud from Massachusetts happened to be the Democratic presidential nominee, people assumed our efforts were politically motivated," said retired Rear Adm. Roy Hoffman, chairman of Swift Boat Veterans For Truth. "Well, Kerry's loss to George W. Bush does not undo the deeds of his youth."
Hoffman added: "We humble servants of truth will not stop until citizens are throwing garbage at John Kerry when they see him at the park."
At the center of the group's efforts is a $1.8 million television ad campaign that includes spots questioning Kerry's ability to make quick decisions in a fast-food line, leave adequate distance between his car and the next in heavy traffic, and take proper care of his lawn. The ads have run in heavy rotation throughout the Boston area since Kerry gave his concession speech Nov. 3, and local television affiliates confirmed that the group has purchased airtime through the summer of 2005.
In one ad, titled "Anything At All," former Navy gunner Andrew Elder addresses the camera while sitting in front of black-and-white, Vietnam-era photos of Kerry.
"John Kerry is a ruthless man who will do anything to get ahead," Elder says. "If he was willing to betray America to our Vietnamese enemies, can he really be trusted to sell you cookies at his church bake sale?"
Another ad, called "The Cheat," features first-hand testimony from Retired U.S. Navy Cpt. Charles Plumly.
"With my own eyes, I witnessed John Kerry cheating at poker," Plumly says in the ad. "If he's willing to cheat at card games in a war zone, what might he do while playing badminton at his next-door neighbor's barbecue?"
A third ad, called "War Criminal," uses silent video footage of a younger Kerry testifying before Congress, interspersed with recent footage of the senator waving to a crowd as he exits an airplane.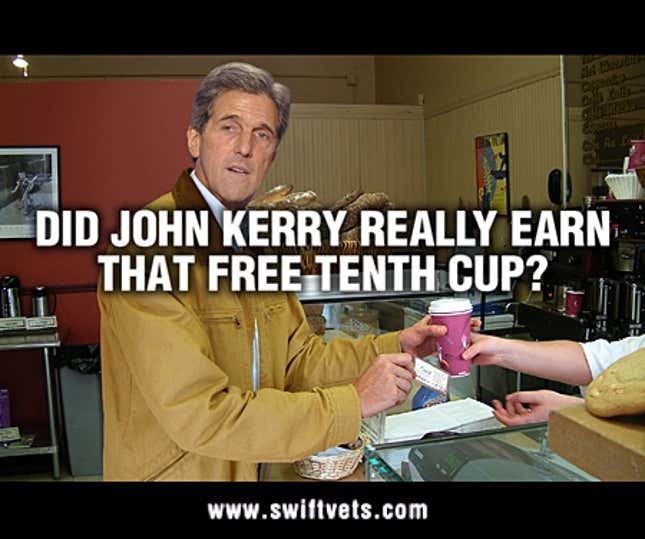 "Mr. Kerry accused his fellow soldiers in Vietnam of war crimes," a narrator says in the ad. "He claimed they cut off ears and heads, raped women, and killed young children. What lies might he make up about you if you happen to be seated next to him on an airplane?"
Although some viewers have criticized the Swift Boat ads as character assassination, many Americans said the organization has raised valid questions about Kerry's character.
"The vigilance and determination of groups like the Swift Boat Veterans For Truth are the only things that can protect us from the devious, traitorous tendencies that John Kerry demonstrated 35 years ago in the jungles of Vietnam," said Colin O'Flannery, a Massachusetts circuit-court judge. "If they stop now, just because George Bush won his reelection bid, Kerry will continue to threaten the sanctity of America well into his retirement."
Added O'Flannery: "That man is out there on the street washing his car every Sunday. Everyone near the Kerry home ought to know what kind of pathological monster they're dealing with."
Retired USMC Lt. Col. James Zumwalt also appears in the "War Criminal" ad.
"John Kerry returned home from Vietnam and made outrageous statements and allegations about those who had fought with honor in that conflict," Zumwalt says in the ad. "Then he made his four-month combat tour in Vietnam the centerpiece of his bid for the presidency. Our nation's libraries need to think twice before granting this turncoat a library card. What's to say he won't suddenly change his mind about returning his books?"
Kerry has not yet responded to the ads, but several former campaign aides said they expect him to issue a statement disputing the attacks before the end of next year.