HOUSTON—In spite of experiences he has had with T.G.I. Friday's in the past, Nate Greisberg has decided to give the popular restaurant a final chance, the 29-year-old told reporters Monday.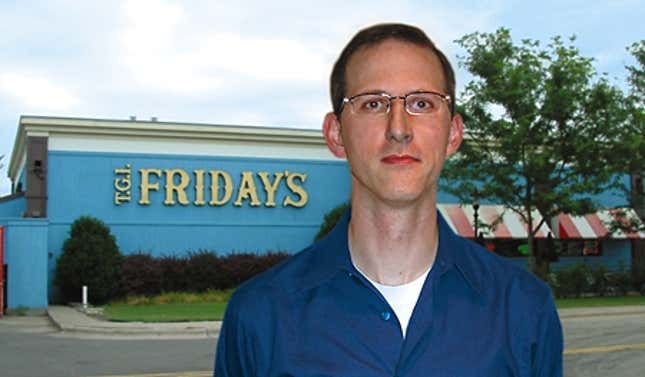 Edgelords Explain Why They Love Elon Musk
"Well, okay," Greisberg said, after his friend Tom Hazen asked him to dinner at one of 526 T.G.I. Friday's nationwide. "I'll give Friday's one last shot. But if they screw up this time, it's over. I really mean it, Tom. You can only be let down so many times before you say, 'Enough is enough.'"
Greisberg estimates that he has dined at T.G.I. Friday's between 10 and 15 times, adding that almost every visit has been disappointing. While he acknowledged that the food is "sometimes pretty good," he dubbed the restaurant's atmosphere "irritating."
"It's always something," Greisberg said, sighing heavily. "Sometimes, the waitress rubs me the wrong way. Then another time, the service is great, but I'm stuck next to a table full of frat guys. I'd never choose the place if I was picking. I'd either go to the diner near my house or Applebee's."
Greisberg's worst experiences with the restaurant have included sitting near a bachelorette party, and waiting more than an hour for his food during a dinner rush.
In spite of such incidents, Greisberg said he tries to keep an open mind when friends tell him they like T.G.I. Friday's.
"This girl I work with says she likes Friday's because it's so horrible it's funny," Greisberg said. "I can't really understand that. It's not the best place in the world, but it's not the worst. It's just kind of there. And besides, who wants a funny restaurant?"
After almost refusing to eat at T.G.I. Friday's, Greisberg changed his mind when he remembered an ad he'd seen for the restaurant's Jack Daniel's Shrimp special.
"I decided the shrimp might not be the worst thing in the world," Greisberg said. "I told Tom I'd go, but I said,'If I wait an hour for a cold appetizer, only to have my dinner come out a minute later, that's absolutely it.'"
"Tom seemed blown away by that," Greisberg added. "T.G.I. Friday's is one of his favorite places to eat."
Greisberg admitted that he once had a good time at a T.G.I. Friday's, while visiting friends in Seattle. But he qualified his praise, saying that the restaurant itself had little to do with his enjoyment.
"When you're hanging out with John [Pilmeyer] and Tim [Gracowski], you're going to have a wild time," Greisberg said. "We were already drunk, so we decided to go to Friday's and get some Sesame Jack Chicken Strips and some Loaded Potato Skins. We ate, had a few pitchers, and got out of there."
Other members of Greisberg's peer group have reservations about T.G.I. Friday's, as well.
"Our friend Dave [Hildebrand] can't stand the stuff they have on the walls," Greisberg said. "If someone suggests Friday's, he tries to turn the group in favor of Olive Garden. I think a part of me wants to join him… If tonight doesn't go well, I just might do that."
Greisberg said the ultimatum does not extend to the T.G.I. Friday's bar area.
"This is just about the dining area," Greisberg said. "I have no problem with the bar. The drinks are reasonable, and sometimes there are hot women there. As long as we don't stay there all night, I'll do the bar."
Greisberg said he's not looking for a "mind-blowing" dining experience, but that he simply wants a normal evening out with no surprises.
"All I want is for my food to be good and on time," Greisberg said. "I'd also like for there to be no screw-up with the bill and for Tom and me to be able to hear each other talk. If those conditions are met, I will eat at T.G.I. Friday's another day. If they are not, what can I say?"
Hazen said he's confident that Greisberg won't see the ultimatum through.
"Nate's always saying stupid shit like this," Hazen said. "I remember when he said he wouldn't waste money on another stadium concert, because he hates the crowds. But then, when a bunch of us said we were going to see Prince this summer, he was the first to buy tickets."
"Well, Friday's is where we hang out," Hazen added. "He's going to have a much lighter social calendar if he refuses to come with. I would recommend that he think his decision through very seriously."