NEWARK, NJ—A downtown Taco Bell announced Monday the signing of Antwaine Hooks, the Most Valuable Player of University of Connecticut's 1995-96 basketball team. The record-setting eight-week contract, worth an estimated $1,560, is the lowest ever signed by an All-American.
"At Connecticut, Antwaine was a key member of a team that won two Big East basketball titles," said Roy DiNardo, manager of the Grove Street store. "I'm pleased to say that here at Taco Bell, he'll be joining another winning team."
Hooks, 19, a Newark native who as a sophomore last year averaged 19.3 points and 8.4 rebounds, was drafted by the Sacramento Kings in the 1997 NBA Draft, but failed to make the team. He was subsequently cut from the New Jersey Nets practice squad.
The 6' 10" Hooks is expected to start immediately for his new team. "His first day is tomorrow, and I plan to have him in there from the get-go," said Reggie Witherspoon, the store's assistant day-shift manager. "Lashonda [Ewell] called in sick, so he'll be alternating between the grill and dining-area wipedown in the morning, and I'm going to start training him on register in the afternoon. From what I've seen of Hooks, he looks like he could be a serious impact cashier."
With store profits down 15 percent since the opening of a Burger King across the street six months ago, the struggling Grove Street franchise needs someone to turn it around. And many believe Hooks can be that franchise player. "This is a guy who's going to do it all for Taco Bell," New York Times columnist Robert Lipsyte said. "Friendly demeanor, reliability, thoroughly washed hands—Antwaine Hooks is the total package."
G/O Media may get a commission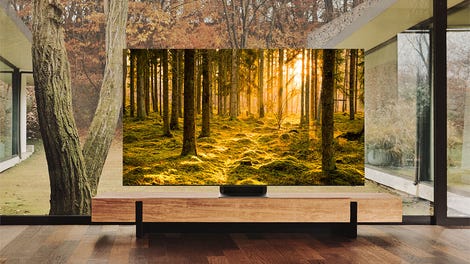 Up to 40% off
Samsung Smart TVs
Hooks, meanwhile, is determined not to let the pressure get to him. "I've just got to go out there and do what I gotta do, you know?" he said. "I mean, if that means restocking the cooler, taking drive-thru orders, working the sour-cream gun or, you know, whatever, Antwaine Hooks is going to go out there and be relaxed and do whatever it takes to get the Grove Street Taco Bell back on top."
The record-breaking minimum-wage deal bests the previous low, a $5.50-an-hour, three-month contract offered by a Covington, KY, Dairy Queen to Jerrod Dawes, the University of Louisville's point guard from 1993 to 1996. But it has nevertheless led some to question whether Hooks' services will actually be worth $5.15 an hour.
"It's outrageous," New York Daily News sports columnist Mike Lupica said. "I mean, to throw that kind of money at a kid straight out of college with literally no professional fast-food experience is ridiculous. Here's a guy who's never made a chicken soft taco or seven-layer burrito supreme in his life, and yet, before even his first day of training, they're hailing him as the franchise savior. Whatever happened to people having to prove themselves?"
But Leigh Rosenhaus, the agent who represents Hooks, said the contract represented "fair market value" for what Hooks can offer.
"There is no doubt that Antwaine will make this Taco Bell the place for Newark residents to go to enjoy hot, tasty food in a pleasant atmosphere," Rosenhaus said. "Antwaine is an exciting, marquee server who will put people in the booths."