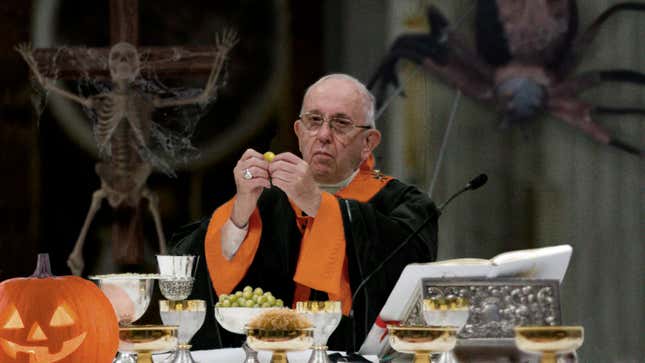 VATICAN CITY—Standing before his costumed congregants in St. Peter's Basilica, Pope Francis declared, "Take this grape for it is the witch's eye, take this spaghetti for it is the witch's brain," during a Halloween-themed Communion Wednesday, Vatican sources confirmed.
This Week's Most Viral News: September 22, 2023
Holy See officials told reporters that the Bishop of Rome delivered his sermon bedecked in black-and-orange vestments as parishioners stood in line to be blindfolded and place their right hands in bowls of peeled grapes and cooked noodles during the Vatican's traditional Monster Mass.

"In the name of the Father, the Son, and the Spooky Ghost," said the Pontiff, while altar boys dressed as specters held aloft thuribles full of dry ice and lit the votive jack-o-lanterns throughout the church. "Our Father, who art in Heaven, Halloween thy name; Thy kingdom come, thy will be done, by the pricking of my thumbs, something wicked this way comes."

"Bwahahahamen," the pope added.

In an effort to cater to the estimated 30,000 Catholics from around the world who made the pilgrimage to Rome this year, St. Peter's Square has reportedly been outfitted as a haunted hay maze to accommodate spillover attendees, with clergy dressed as mummies and werewolves hiding behind the colonnades in order to jump out at unsuspecting worshippers. Those who were able to secure tickets for the main service reportedly crowded into the basilica to bob for apples in the baptismal font, hear readings from the Book of Hexodus, and receive the sacrament of Unholy Boocharist.

Vatican sources confirmed that after His Holiness Pope Francis delivered the introductory frights, he welcomed the visiting Bishop of Transylvania, who led the congregation in the Scary eleison while church officials passed around plastic pumpkins to collect tithes. The ceremony reportedly continued with those assembled singing the traditional hymn "Dear Lord and Father of Wolfmankind" before the pontiff delivered a short homily centered on the miracle of the resurrection of Frankenstein's monster.

"As usual, Pope Francis's mass was petrifyingly pious and spine-tinglingly soul-saving," said parishioner Renee Dunbar of Salem, MA, clutching a rosary featuring a miniature scarecrow nailed to a cross. "I feel blessed that I was also able to secure tickets to the adults-only midnight service, which is supposed to be even creepier than tonight's family-friendly version."

"Francis has shown once again that he's willing to be a reformer and lead the Church into the future," she added. "His communion was way better than the gore-and-dismemberment-centered torture sacrament that Pope Benedict would get into every year."