TAMPA BAY, FL—Still reeling from the loss of quarterback Chris Simms and desperate to shore up the second-worst offense in the NFL, the 2-7 Tampa Bay Buccaneers announced Monday that they had signed Clay Manning—son of Saints legend Archie Manning and the legendary long-lost fourth Manning brother—to a two-year, $3.2 million contract.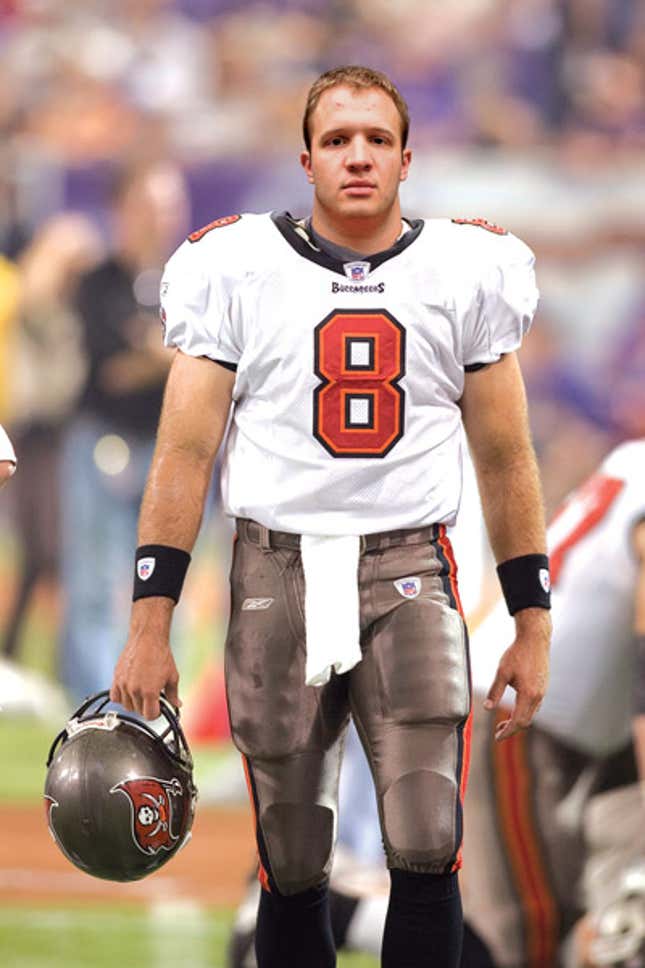 This Week's Most Viral News: September 29, 2023
"We're proud to have Clay aboard here in Tampa Bay," said Bucs owner Malcolm Glazer in a press conference held at the team's practice facility. "It was extremely difficult tracking him down, of course, as his family was not in contact with him, and the only thing we had to go on was that he was wandering the nation, working odd jobs, doing good deeds, and playing in pickup games. But now that he's here, we expect him to start immediately."
Clay, the younger brother of Cooper and Peyton Manning and older brother of Eli, was a highly recruited high-school quarterback prospect, but decided to attend Princeton University after graduation, saying he "did not like football or find the game particularly challenging." He left college as a junior in 1999 following an argument with his father over his decision not to join the football team and concentrate on his philosophy degree. Though he failed to complete college due to his family refusing to pay his tuition, Manning was drafted in the sixth round of the 2000 NFL draft by the Arizona Cardinals; despite emotional appeals from his brothers, parents, and Cardinals management, Clay declined to sign.
Aside from occasional postcards to his mother, Clay Manning had not been heard from until Buccaneers scouts found him working in a bean field outside Nacogdoches, TX last week.
"It's humbling to have this chance to turn this team around," said Manning, who stunned coaches in his first practice Wednesday by throwing for 227 yards and four touchdowns on 17 of 19 completions during two full-pads scrimmage quarters despite not playing organized football since he graduated high school in 1996. "But let me make one thing perfectly clear: I am only doing this for the fans. I cannot ethically stand by and allow the good people of Tampa Bay to despair."
Manning has further specified that he will relinquish the team to former starter Chris Simms once Simms is cleared to play; that the entirety of his salary would be used to create college scholarships for needy Florida students; and that he is requesting a small chamber in the Buccaneers' practice facility, ideally 12 feet by 12 feet with a single window, in which to live.
"After my work here is done, and I have helped energize our struggling running game by making defenses play the pass, especially downfield and across the middle, I will resign from the team," Manning said. "It is not utterly inconceivable that we could make the playoffs."
Coach Jon Gruden said he was "absolutely stunned" by Manning's performance.
"You can't teach that passing motion," said Gruden, who quit calling plays halfway through Wednesday's intrasquad game when it became apparent that Manning had already memorized the playbook and mastered Gruden's audible system. "Or that precision. Or that field vision. Or… What play did he just call? Is that in the playbook? How did he avoid that linebacker? Anyway, whatever. Touchdown, again."
The Mannings would not say whether or not they had attempted to contact Clay. However, both Peyton and Archie Manning took the opportunity to address the media concerning the brother they had previously never mentioned.
"It's good to see Clay out there doing what I believe he was born to do," said Peyton, who has not spoken to his brother in over a decade. "I just wish he'd listened when Dad told him he was born to do this. Also, I'm disappointed he hasn't done any commercials."
"This is a good sign," said patriarch Archie, who said he would consider speaking to his estranged son if he finished the season with a winning record. "I was beginning to think I had not completely succeeded as a father. Now I see I was wrong."
"With the possible exception of my long-lost daughter Alicia, of course," added Manning. "A daughter? Me? I can't have that."