BARTLESVILLE, OK—Subway sources report that employee Jeremy Prusher, 17, appeared proud and a little nervous after accepting the momentous duty of closing the franchise location by himself Monday night.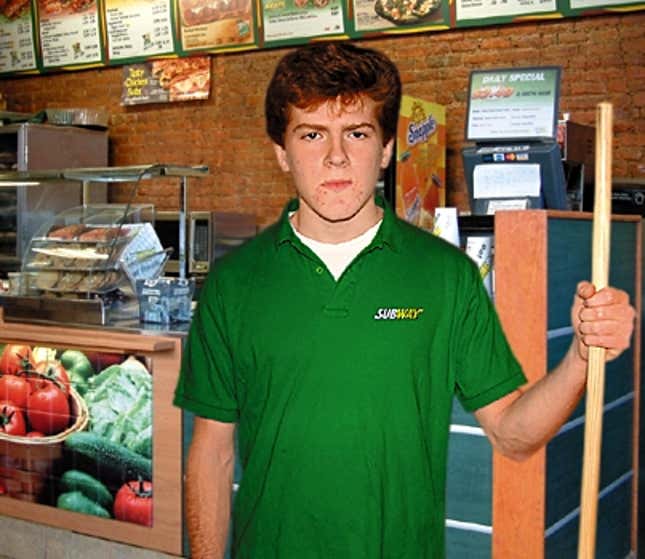 "Okay, here are keys to the front door and the deadbolt at the back," said Michael Rotley, 32, who has managed the Juniper Avenue restaurant since March 2003. "I know it seems like a lot to remember the first time, but as long as the doors are locked, the alarm is set, and the lids on the sandwich line are closed, I probably won't fire you."
"Just kidding about the firing," Rotley added. "But seriously, if those lids are up, we'll have to throw everything out. That's hundreds of dollars in product, so don't forget."
A Subway employee since Aug. 1, Prusher quickly earned several positive performance reviews and a 45-cent raise. Rotley said that, although Prusher is only a high-school junior, he is "perfectly capable" of closing Subway.
"Jeremy's a good kid," said Rotley, who also attends a night class at Tulsa Community Business College. "Normally, an assistant manager or a shift lead closes, but I don't foresee any problems. If he follows the checklist taped up on the walk-in cooler, he should do just fine."
While he expressed surprise at being handed so much responsibility so soon, Prusher said he believes he will rise to the occasion.
"I think I've got a handle on it," Prusher said. "I've been working at night helping other people close, so I have a pretty good idea what happens. I know the drill. Like, even before Michael told me, I knew he slid the cash envelope into the safe in the breakroom after he Z-ed out the register."
Added Prusher: "I think it'll be a while before he trusts me with the combination to the safe, though. A long while."
Prusher said he has a plan in place in case he encounters any setbacks while closing.
"[Coworker] Dewey [Taylor] has closed a bunch of times," Prusher said. "If I run into any problems, I'll call his cell. He lives pretty close."
Although the duty does not come with a pay raise, Prusher expressed gratitude for the opportunity to prove himself.
"I can do this," said Prusher, who has reread the list of end-of-night duties six times since he was asked to close Subway all by himself. "I worked over at the McDonald's by my house for a couple months before I came on here. There, a manager would always close the store, but he just sat there and watched me do everything. I totally could've done it by myself."
Prusher said he will not betray Rotley's trust by giving friends free food or eating more than his earned meal allotment.
"I've heard of people giving their buddies free subs, but I always thought that was immature," Prusher said. "You're just asking for trouble. Do they think the manager isn't going to notice that a bunch of food is gone the next morning?"
Prusher said he will, however, continue to honor unspoken agreements with employees of stores adjacent to Subway in the strip mall.
"If the guys from the TCBY or Domino's come by, I'll hook them up, like we always do," Prusher added. "I'm not going to get all high and mighty just because I'm closing by myself."
To make his night go more smoothly, Prusher said he plans to take advantage of coworker Nate Sankey as much as possible until Sankey's shift ends at 10 p.m.
"I'll try to get Nate to do a bunch of cleaning and stocking before he goes," Prusher said. "If there's no rush in the last hour, I'm pretty sure I'll be fine. There'll still be a lot of sweeping and mopping to do, but I'm gonna get the bucket all set up so all I have to do is add water. If there's a rush, I'll have to restock the cooler, which sucks. I want to do a good job and all, but I don't want to be here all night. It'll take 20 minutes just to flip and sanitize the sandwich counter."
"I'm just glad it's Monday," Prusher added. "Mondays are usually pretty dead."
Rotley said he doesn't generally entrust an employee with a closing shift before his six-month evaluation, but poor scheduling left him no alternative.
"I just wasn't thinking, and I forgot I had plans to meet up with some friends to see a movie," Rotley said. "But Jeremy will do fine. Maybe I'll drive past the store after the movie to make sure Jeremy's not standing in front of the alarm tearing his hair out."
A Domino's Pizza employee later reported that Prusher closed the store without incident, but after 15 minutes returned to check the front and back doors and peer through the window to make sure the sandwich-bar lids were shut.