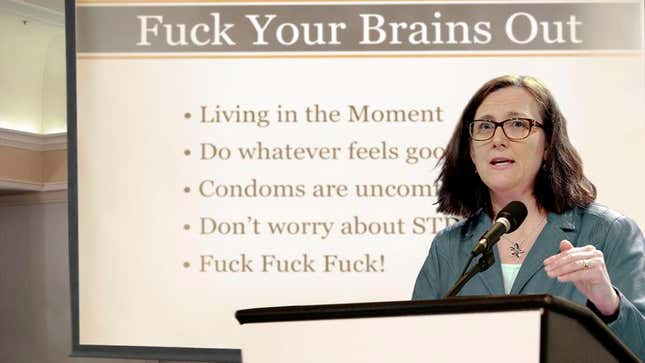 WASHINGTON—A 150 percent increase in teen pregnancy rates over the past decade has led more high schools to eliminate "Fuck Your Brains Out," a national sexual education program that encourages adolescents to have sex frequently and with as many partners as possible, sources confirmed Thursday.
CDC Issues Dire Warning That Nick Cannon Is Feeling Horny
The federally funded program, whose mission is to "educate teens on the advantages of premarital sex and empower them to embrace a promiscuous lifestyle of banging the shit out of each other," has reportedly contributed significantly to the spread of sexually transmitted infections and diseases among U.S. high school students.
"We tried the 'Fuck Your Brains Out' initiative for five years, and unfortunately, we did not find the results we were looking for," said Principal Lynn Mullen of Conestoga High School in Pennsylvania, one of 4,000 public secondary schools currently teaching the course. "Until now, our approach to sexual education has been to teach kids to go hard now before they're old, out of shape, and tied down with marriage and kids."
"At this point, we need to reassess: Is this something that's actually working?" Mullen continued. "Or are we ultimately doing more harm than good?"
Government-Issued PSA Urging Teens To Fuck Their Brains Out
ABOVE: Government-Issued PSA Urging Teens To Fuck Their Brains Out
According to its official website, "Fuck Your Brains Out" uses a five-lesson curriculum to communicate the advantages of premarital sex: "Living in the Moment," in which teens learn to erase sexual boundaries and inhibitions; "Do Whatever Feels Good," a workshop where students are paired up and given an hour to experiment sexually; "Condoms Are Uncomfortable," a tutorial on avoiding the irritating pain caused by using prophylactics; and a screening of the film Don't Worry About STDs, They'll Find A Cure Eventually, which introduces students to common sexually transmitted diseases and explains how they shouldn't worry about that right now.
Finally, the course concludes with a lecture called "Fuck Fuck Fuck," which asks students to take a pledge vowing to have as much sex as humanly possible.
"Our message to teens is that you're only young once; you'll never be this attractive again, so you might as well go crazy and fuck as many people as you can," said Tom Howard, a longtime lecturer who speaks with students about how his decision not to fuck his brains out nearly ruined his life. "I tell kids that when I was a teenager, I didn't fuck my brains out and high school totally sucked. I was in a monogamous relationship and used messy spermicides and ill-fitting condoms. I don't want that to happen to other kids."
"It's our duty to make sure students have the tools they need to pound each other dry," Howard continued. "In the classroom, in the car, in the back of school dances, wherever."
Starting in 2003 as part of the Bush administration's No Child Left Behind Act, "Fuck Your Brains Out" was immediately popular, and high schools across the country were reporting perfect participation rates among students. The sexual education course, which was expanded and restructured under President Obama, has drawn critics, arguing that the curriculum's emphasis on "banging until it burns" might be detrimental to young people.
According to a recent poll of American high school principals, 54 percent confirmed widespread gonorrhea was "a serious problem," 43 percent said viral hepatitis was the most pressing issue, and 82 percent reported that almost every one of their students was suffering from genital herpes.
In response to criticism this week, "Fuck Your Brains Out" organizers defended their program and expressed its disappointment in schools' decisions to discontinue the curriculum promoting licentious behavior.
"It's distressing that educators would squash the enthusiasm that U.S. students showed for the 'Fuck Your Brains Out' program," said national director Barbara Ramona. "You can slash funding, but then all we're left with are ineffective workshops like "Just The Tip" and "Pull Out" that don't encourage students to explore and pursue their most sexually depraved desires."
"I'm pleased, however, that many schools have opted not to phase out the 'Just Get An Abortion' program," Ramona added. "That gives me hope we're finally making progress."