TRAVERSE CITY, MI—Three teens eating at the North Henderson Street Country Kitchen diner "really went to town" with the restaurant's comment cards Sunday, third-shift manager Rick Wehl reported.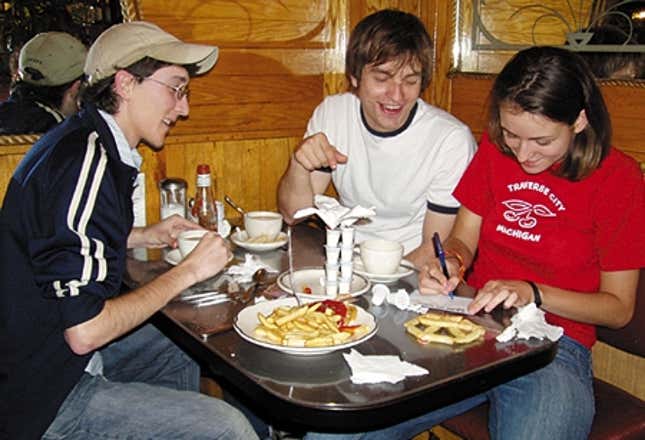 CDC Issues Dire Warning That Nick Cannon Is Feeling Horny
"Yeah, there was a group of kids in that back booth last night," Wehl said Monday. "They sure were getting their jollies filling out those comment cards. Must have been at it for an hour and a half."
The 17-year-olds—Christine Konkel, Aaron Malkus, and Jeffrey McIntosh—reached Tuesday at the same Country Kitchen location, said they entered the 24-hour family restaurant at 12:15 a.m. Sunday, after spending several hours driving up and down Central Avenue.
According to Malkus, an hour after the teens sat down, shortly before they ordered food, he spotted the comment-card display near the register. He brought a stack of cards to the table, at which point the teens immediately began to fill them out, reading their comments to one other as they wrote.
"The first spot was 'name,' so I wrote 'Oliver Clothesoff,'" McIntosh said. "I thought about writing 'Jack Hoff,' but I decided on 'Oliver Clothesoff' in the end. My dad's name is Oliver."
Malkus wrote "Seymour Butts," while Konkel wrote "George W. Bush."
"For age, I wrote 'to perfection'—you know, 'aged to perfection,' like wine," Malkus said. "And for zip code, I wrote in my regular zip code, because I couldn't think of anything funny. I could have written '666' and then '69,' but that would have just looked like four sixes and a nine."
Despite the comment cards' lack of sex-related questions, the teens found a way to work the topic into their evaluations.
The teens provided a number of risqué answers—phone numbers like "555-TITS" and "ASS-FUCK" and e-mail addresses such as "blowme@yahoo.com" among them.
The question "Who served you today?" proved especially provocative.
"I wish I'd been served by Cameron Diaz instead of some Country Kitchen asshole," Malkus wrote. "Or Anna Kournikova. She's hot."
In the blank that requested the server's name, Konkel wrote "Dick Whale," in reference to Wehl, with whom the teens are familiar from their many recent trips to Country Kitchen.
"Remember that time Jeffrey brought over a booster seat and sat in it?" Konkel asked. "And then [Wehl] came over and told us to 'cool it.' Wasn't that hilarious? He was like, 'Cool it, guys.'"
"Remember the time we asked The Whale for the crayons, and he wouldn't give them to us, but then we got some from the other table?" asked Malkus, who has hung a Country Kitchen placemat featuring sexually explicit crayon drawings in his locker.
Konkel merely nodded, her attention focused on recounting the lengthy answers she provided to such simple multiple-choice questions as "What meal did you share with us?"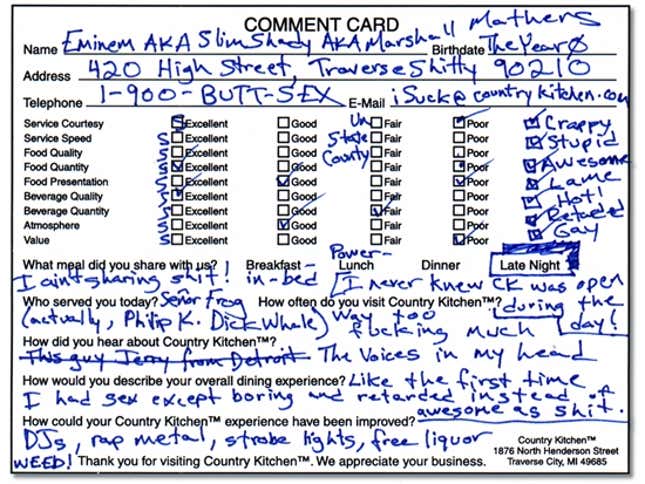 "I wrote, 'Sharing is caring, and I don't care to share my damn pancakes with anybody,'" Konkel said. "Then I got a better idea, so I put an asterisk next the question and wrote 'Christmas fucking dinner' on the back."
To answer a question about the frequency of her trips to Country Kitchen, Konkel wrote that she visits Country Kitchen "way more than [she] should, considering what a shithole it is." In response to the same question, Malkus wrote "(2x - 50) y."
The group also provided creative answers to such open-ended questions as "How could your Country Kitchen experience have been improved?"
The teens agreed that Konkel's answer was the best: "Country Kitchen? Oh, shit, I thought I was at Red Lobster!"
In spite of the good time they seemed to have had Sunday, the teens' appraisals of their overall dining experience were overwhelmingly negative.
"It was a nightmare…a waking hellscape…of crappiness," McIntosh wrote. "It sucked more ass…than the whole…gay-ass staff combined."
The comment cards' last question solicited suggestions for improvement, and the teens happily complied, their responses sharing an undercurrent of sexual frustration.
"You want to know what you could do?"Malkus wrote. "Put in a stripper pole and have nude waitresses… You should also have edible food, lower prices, and free blow jobs."
Konkel said the restaurant "should have midgets bring you the food and then they should sit in your lap and feed it to you."
McIntosh's response was the group's favorite. He wrote, "This place needs way less depressed truckers, and way more 16- to 20-year-old single girls who like to get high."
At 2:45 a.m., the teens finished their seventh pot of coffee, hid the tip under a plate, and got up to leave the restaurant. On the way out, Malkus slipped 11 comment-filled cards into the box near the front register.
"I knew those kids were filling out comment cards over there," said Wehl, emptying the box at the end of his shift. "As long as the things don't end up on the floor, I don't care how many anyone takes. We've got a box of 5,000 in the back."
Wehl looked at one of Malkus' cards, which happened to be on top, for several seconds before dropping the stack in the trash.